Not all of it – because Lakshya Sen had the World Championship bronze before that – but a large part of his tale begins at the All England where he made finals last year. Things have sobered down a tad post that giddy run. A nasal surgery after which he's still to gather back that same fearlessness of the last campaign and early exits in tournaments where he was defending points mean Sen starts out at Birmingham Arena a little more tentative than earlier.
He runs into Chou Tien Chen straight away, and an immediate challenge to reverse that 2-0 head-to-head scoreline, where both were three-setters. Should he go past the Taiwanese, there could be Anders Antonsen or Rasmus Gemke waiting in Round 2 – both imminently beatable. The draw starts out stiff but can ease out with Anthony Ginting in quarters, given Sen's propensity to counter him on speed and good defence. Viktor Axelsen, though, could be waiting in the semifinals.
Another probability is the all-too-familiar HS Prannoy vs Sen in quarters, instead of Ginting. Draw-makers just can't seem to get enough of this rivalry as the two have met each other seven staggering times since the start of 2022. The score stands at 3-4 in Sen's favour after the India Open win for the World No 12. But this is the All England, and World No 9 Prannoy is currently in the middle of a giant consistency bubble and would want to make it count.
HS Prannoy in action. (Twitter/@PRANNOYHSPRI)
The 30-year-old starts against Wang Tzu Wei, and is currently 4-3 ahead. You can expect a long match when these two play, given 6 of their 7 matches have gone into deciders. One of the big names Prannoy has scalped in the course of his purple patch is Chou Tien Chen – winning 3 of their last 5 matches. Prannoy had also upset Chou in the 2018 All England opener after suffering three defeats against him.
Both of the high-ranked Indians, though, might have to cross the Axelsen hurdle potentially to get into the finals.
The third men's singles player is Kidambi Srikanth, who is currently at World No 19. He starts against Toma Jr Popov, a name that can haunt him given the unexpected loss at Orleans Masters in the course of Tokyo qualification. The former World No 1 went on to beat him easily the next time they played.
Lakshya Sen plays a shot against Danish badminton player Rasmus Gemke during their men's singles match at the Yonex-Sunrise India Open 2023, in New Delhi, Thursday, Jan. 19, 2023. (PTI Photo/Manvender Vashist Lav) (PTI01_19_2023_000382A)
Srikanth has never faced Kodai Naraoka, the young Japanese, ever, and is 4-0 against Lu Guangzu of China, either of whom he might meet in Round 2. His potential pathway to the title, though, has Lee Zii Jia (1-2) in quarters and Kunlavut Viditsarn (0-3, which includes two thrashings) in the semis.
While this might be the first All England where India boasts 3 men in the Top 20 of rankings, each of them will need to play well above their potential to pierce these challenging draws.
Tai Tzu in Sindhu's path
It doesn't get more challenging than potentially having Tai Tzu Ying standing at the quarterfinals gateway, even before sniffing the business end of All England. But PV Sindhu is tasked with trying to get past the Taiwanese in the last 8 should both of them make the quarters.
There's the 26-year-old Chinese Yang Jiman in Round 1, and though the two have traded wins, Sindhu beat her easily at the Malaysia Masters. In Round 2, there's the possibility of running into He Bingjiao, a tricky opponent, though Sindhu has always come up trumps in big occasion matches against the Chinese. Their head-to-head reads 9-10, which is nothing much to read into in the present SWOT, but Bingjiao is far from an easy opponent to tame.
It's the 5-17 against Tai Tzu Ying that looks discouraging though Sindhu could always tell herself that her big achievements – the Olympics silver and World Championship gold – came at Tai Tzu's expense, so it's not a never-defeated opponent. Yet, it's now been 7 matches since Sindhu could get one past her.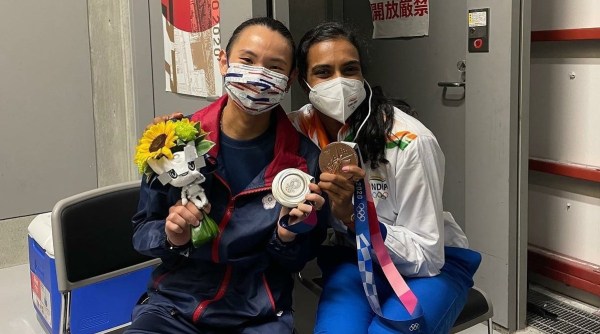 Tai Tzu-ying of Chinese Taipei and PV Sindhu of India celebrating with their Tokyo Olympics medals. (Instagram/@tai_tzuying)
In what is a stern draw past Tai Tzu, too, Sindhu might run into An Se Young in semis, against whom she's yet to open her account, with a 0-5 gasping faceoff score.
The other women's singles shuttler Saina Nehwal who's been to more than a dozen All Englands and made the finals in 2015, heads into one more, this time starting against Chinese Han Yue, who's ranked No 10. She's in the same quarter as Asian champ Wang Zhiyi and World champ Akane Yamaguchi.
Doubles challenge
The withdrawal of Kevin Sanjay Sukamuljo – Marcus Fernaldi Gideon, the 'Minions' means India's Satwiksairaj Rankireddy and Chirag Shetty start against a reserve pair.
The testing times though continue as there's Chinese Liang-Wang, the India Open champs who could line up in Round 2, and the world champions – Aaron Chia-Soh Wooi Yik, next. That's 6 total matches having gone unanswered across two pairings. But the Indians are due to break the jinx at some point, and there's no bigger arena than Birmingham, a city where they won the CWG gold, albeit not at the same venue.
Satwiksairaj Rankireddy and Chirag Shetty. (File/BAI)
For young Gayatri Gopichand Pullela and Treesa Jolly, there's an opportunity to break another run of losses as they did against Malaysians Thinaah-Pearly. They run into Thai 7th seeds Jongkolphan Kititharakul and Ravinda Prajongjai, against whom they are 0-4 in the head to heads. It's been straight sets, though the last scoreline 23-21, 22-20 where they played catch up but couldn't overturn the lead, offers some hope.
This All England will also look for anticipated returns to the good form of Kento Momota and Carolina Marin. For India, all eyes will be on Lakshya Sen, the finalist from last year and Prannoy, and both the top doubles who are forever threatening to break new ground.