Soon after Mitch Santner arrived with New Zealand wobbling at 131 for 6, some of the fans already began evacuating the stadium. The vendors who were selling popcorn and fries for Rs 100 were now beginning to offer it half the price as the match seemed to head for an early ending. Little did they know, Michael Bracewell will once again make the fans grab popcorn and be glued to the seats as he threatened to take down India's 350-run target.
Bracewell had walked in with New Zealand five down for 110 in the 25th over and when he was joined by Santner, the required run-rate had escalated to 10.42. But Bracewell not only found a way to take the game deep, but nearly came within a couple of sixes to breach India's total.
In the next couple of hours, Bracewell showed the world how much of an impact the T20s have had on ODIs. From teams treating T20s as a shortened version of ODIs, we are in an era where 50-overs are being played as an extension of 20-over cricket. As more teams adopt a ultra aggressive gameplay in ODIs by including players who were previously only part of their T20 set up — Finn Allen, Glenn Phillips, Suryakumar Yadav, Liam Livingstone, Harry Brook are case in points, the 50-overs format is witnessing a paradigm shift.
Unlike T20s, the ODIs give another luxury to the batsmen – more overs, which means even in the case of early wickets, there is plenty of time for the middle-order to get their eye in and put up a 350-plus total. And even if you lose a cluster of wickets in the middle-overs, teams don't panic with mounting asking rates. Instead, they chose to steady the ship, fully aware they can always catch up, because there are only four fielders outside the circle in the second powerplay. And two new balls at both ends mean, spinners – who long used to be the fall back option for captains in the middle-overs — are not as effective as they used to be. Neither is reverse swing.
"It (T20s) has had a huge influence on one-day cricket and that's what makes one-day cricket so exciting," Bracewell said. "You can be in a position like that and work yourself back into a position of power. I don't think we quite got ourselves into a position of power, but we got ourselves into a position [from] where we could have ultimately won the game, which is what you want to do when you're behind the game a little bit. But one-day cricket certainly gives you the time to have that rebuild and then try to go again. I think the skills that players are learning in T20 cricket is obviously hugely beneficial for the one-day game," he added.
At Hyderabad, Bracewell showed a live demonstration of all these.
New Zealand's Michael Bracewell, left, celebrates with batting partner Mitchell Santner after scoring a century during the first one-day international cricket match between India and New Zealand in Hyderabad. (AP Photo)
On a pitch where top-order batsmen from both sides struggled to adjust to its two pace nature, Bracewell had seen what Shubman Gill had done earlier in the day. Most of his shots had come in front of the square, particularly in the V. Not that Bracewell stuck to it totally, he scooped deliveries at will, but within a matter of few deliveries, the left-hander knew what's to be done.
Perhaps, India also played into his hands by not going for the kill as Mohammed Siraj – easily the best on the night for Rohit — only bowled two overs in his second spell as Washington Sundar, Hardik Pandya and Shardul Thakur faced most of Bracwell's wrath between 32-40 overs. In that period, only in the 36th over sent down by Kuldeep Yadav, did New Zealand score less than 6 an over. From 31 over to the end of 40th (76 runs came in the last six overs of that phase), thanks to Bracewell, the Black Caps scored 116 runs without taking a wicket.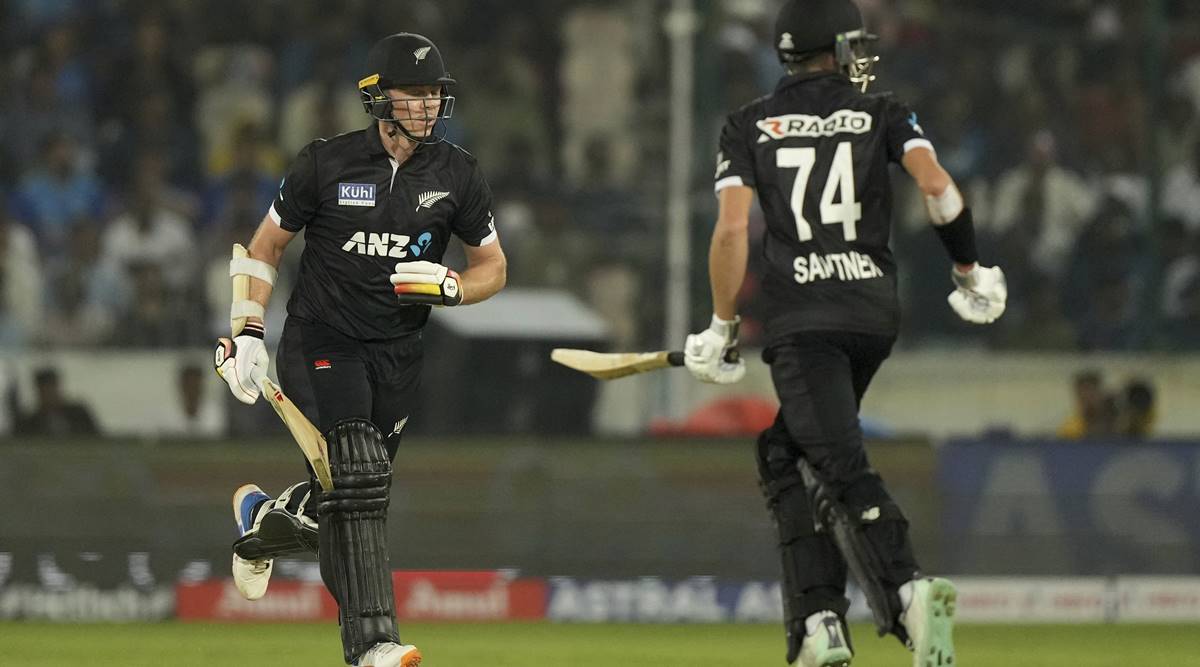 New Zealand's Michael Bracewell, left, and Mitchell Santner run between the wickets. (AP Photo)
And suddenly with a bit of dew around and having made full use of the five-fielder rule in the second powerplay, Bracewell had not only kept New Zealand in the game, but was leaving India bereft of ideas.
Bracewell is not new to this situation. Last July against Ireland, chasing 301 for win, the Kiwis were 120/5 in 21 overs when he walked in and won the game for his side by scoring 127 off 82 deliveries. In the last 10 overs, fully aware that India won't bowl spinners to him, he made a calculative assault, keeping the game alive until he was the last man to be dismissed when NZ needed13 off the final five deliveries.
"When I walked out to bat, I was optimistic that we could win the game from that position. You sort of try and work your way towards a position where you can actually have a go at the target. I don't know when you need 20 off the last over, a lot of things have to go your way to get yourself over the line. It was probably that moment I was like this is as close we're going to get. We've got to give it a real good go from here, so you don't want to look so far ahead when you're chasing 350 in 50 overs," Bracewell said. "You're just trying to do it a ball at a time."