Do you remember the fairytale ending to Leicester City's 2015 Premier League season? Yes, they went on to create history but before that, everyone expected Claudio Ranieri's men to ultimately crumble and go plummeting down the table. As we know now, that did not end up happening and the Foxes went on to win the whole thing, giving the world one of the most feel-good moments of the century.
Mikel Arteta's Arsenal have the same vibes this season. Before the season started, no one expected Arsenal to top the Premier League table. They were even hardly considered top 4 contenders with experts pointing out that Manchester City, Liverpool, Manchester United and Tottenham have far better squad balance than the Gunners.
The North London club, however, has preferred to give its answers on the field. They have had a blistering start to the league, having lost just once in 17 matches. They tied twice and have won 14 times as they maintained their firm grip on top of the Premier League table.
Arsenal's Thomas Partey shoots at goal during the English Premier League soccer match between Brighton and Hove Albion and Arsenal and at the AMEX Community Stadium in Brighton, England, Saturday, Dec. 31, 2022. (AP Photo/Alastair Grant)
They have been playing beautiful football with players like Gabriel Martinelli, Bukayo Saka, the injured Gabriel Jesus, Thomas Partey and Martin Odegaard all stepping up and contributing to the cause. And in a very long time, Arsenal feel like a team that has a genuine chance to go all the way.
But glory is still a long way off and unlike other seasons, this edition of the Premier League is a little different due to the World Cup break. The month-long tournament has already had a big impact on Arsenal's plans as it resulted in the aforementioned ligament injury to Jesus. One of the signings of the summer, the Brazilian has scored 5 times this season after coming from Manchester City. This might not look like much but his contribution in other areas of the pitch like hold up play and defensive duties can't be overstated enough. In his absence, Arteta needed his replacement striker to step up. And Eddie Nketiah has stepped up all right. The 23-year-old English forward has scored in both matches after the restart, against West Ham as well as Brighton. But you can't help but wonder if such a quick fix might work in the long run.
Arsenal's Achilles Heel came to the fore on Tuesday night when they came up against a Newcastle side which had lined up to frustrate Arteta's men. And they succeeded in their task with the Arsenal forwards struggling to find a way to put the ball in the net. The match ended 0-0 but showed that even Arsenal, with all their attacking flair, can be halted with the right strategy. With two games against 2nd placed Manchester City and Manchester United coming up eventually, this relatively young Arsenal side need to keep their cool if they hope to go all the way.
The next few weeks will be a testing time for the Gunners as they have a difficult run of fixtures coming up. Apart from the aforementioned City and United clashes, they will also have to play Tottenham and have Europa commitments. Their closest challengers Manchester City have squad depth that will ensure that they emerge unscathed from this congested period while Arsenal might have to rethink their strategy and buy or loan a couple of players in order to stay in the mix.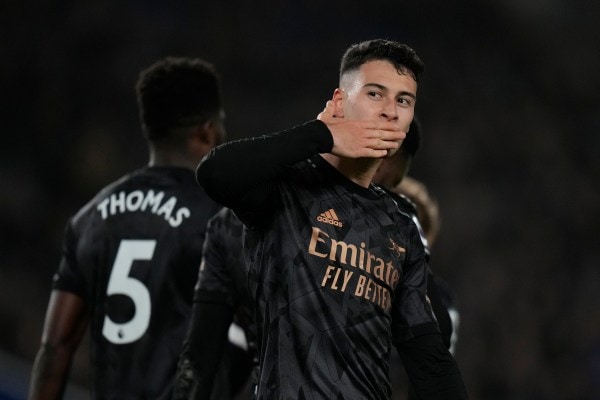 Arsenal's Gabriel Martinelli, right, celebnrates with teammaters after scoring his isdes 4th goal during the English Premier League soccer match between Brighton and Hove Albion and Arsenal and at the AMEX Community Stadium in Brighton, England, Saturday, Dec. 31, 2022. (AP Photo/Alastair Grant)
One thing that will keep Arsenal buoyant will be that their relatively young squad has the drive and the skills to go all the way. No one represents this more than their midfield engine Martin Odegaard. While his fellow Norwegian Erling Haaland has been in the limelight since the get go, Odegaard has been quietly going about his job, ensuring that Arsenal's midfield keeps ticking.
However, the 24-year-old has been the talk of the town since restart after his electric performance against Brighton on New Year's Eve. He scored a goal in that match but his assist to Martinelli has been the one moment of the match that has been grabbing the headlines. Stationed in his own half, Odegaard pinged an inch-perfect ball into the path of Martinelli who left Tariq Lamptey in his wake and scored. Odegaard's gameplay has even drawn praise from United legend Rio Ferdinand who compared the playmaker to Mozart and prime Mesut Ozil. It's really hard to imagine how Real Madrid let this wonderkid go for just £30 million.
History is on Arteta's side, no team with the current haul of points at this stage of the season has failed to win the title. The Gunners have a fair shot of catching lightning in the bottle after 19 years. Lesser teams have crumbled and lost their heads watching their title hopes go up in smoke. That is a pitfall that this young Arsenal squad will hope to avoid as the road ahead gets more daunting.