A thunderbolt struck during the first T20I against Sri Lanka at Wankhede Stadium as Umran Malik, India's new wild child, sent the speed gun into a tizzy. After hovering in the high 140s throughout his spell, he bowled a 155 kph delivery that took out Sri Lanka skipper Dasun Shanaka. The ball didn't rush Shanaka, nor did it ram into his ribs. But he ended up hitting it straight to Yuzvendra Chahal at extra cover.
The 23-year-old, a fruit-seller's son from Gujjar Nagar, a modest locality in Jammu, is known for instilling fear in the minds of batsmen and his stint with former South Africa pacer Dale Steyn at Sunrisers Hyderabad has fueled his appetite to bowl quick.
After the end of the last IPL season, when he was in Jammu, Malik shared an interesting anecdote with Raman Thaploo – a cricketer from J&K who has watched Malik's journey closely – about what Steyn told him after Sunrisers' last match.
"Dale Steyn told Umran, 'You are born to ride a Ferrari, never switch to a Fiat,'" Thaploo recalls the conversation.
"Tom Moody and Muttiah Muralitharan's advice was to never compromise with his pace because it is his weapon by which he can terrorise batsmen," adds Thaploo.
Malik has taken the instructions to heart and in his brief international career (5 ODIs and 4 T20Is), has added that colourful spice to the Indian pace attack.
India's Umran Malik celebrates the wicket of Sri Lank's Dasun Shanaka during the first T20 cricket match between India and Sri Lanka in Mumbai. (AP Photo)
Jammu and Kashmir's fielding coach, Tanmay Srivastava, a former India Under-19 cricketer and a veteran of 90 first-class matches, was stunned when he saw the wicketkeeper's gloves tremble every time he collected Malik's deliveries.
"We were playing Vijay Hazare Trophy in Mohali and it was the first time I saw a wicketkeeper and slips standing that far. We're sitting in the dressing room and you can clearly hear the sound of the ball hitting the palm of the wicketkeeper's gloves. I have never seen anything like it in my career," Srivastava told The Indian Express from Surat, where J&K are playing against Railways.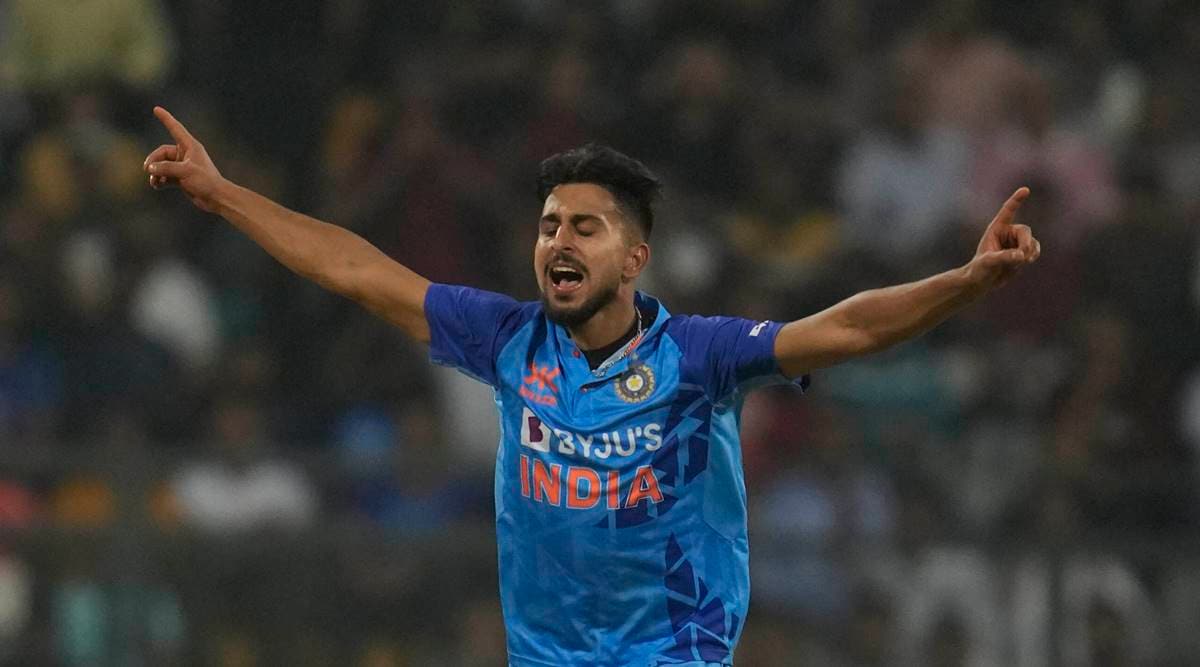 Umran Malik in action during the first T20 cricket match between India and Sri Lanka in Mumbai. (AP Photo)
Tanmay also pointed out why Malik, a wiry man with a swimmer's physique, is able to generate so much pace. "Superior genes. A natural talent. And his run-up is from where he generates that pace. It is very smooth, his strides are like that of a sprinter and that gives him momentum. This is what I figured out after watching him from close quarters," says Tanmay.
By the end of his spell of 4-0-27-2 on Tuesday, Malik had Wankhede Stadium on its feet, the ovation accompanied by chants of "Umran, Umran" and "Malik, Malik."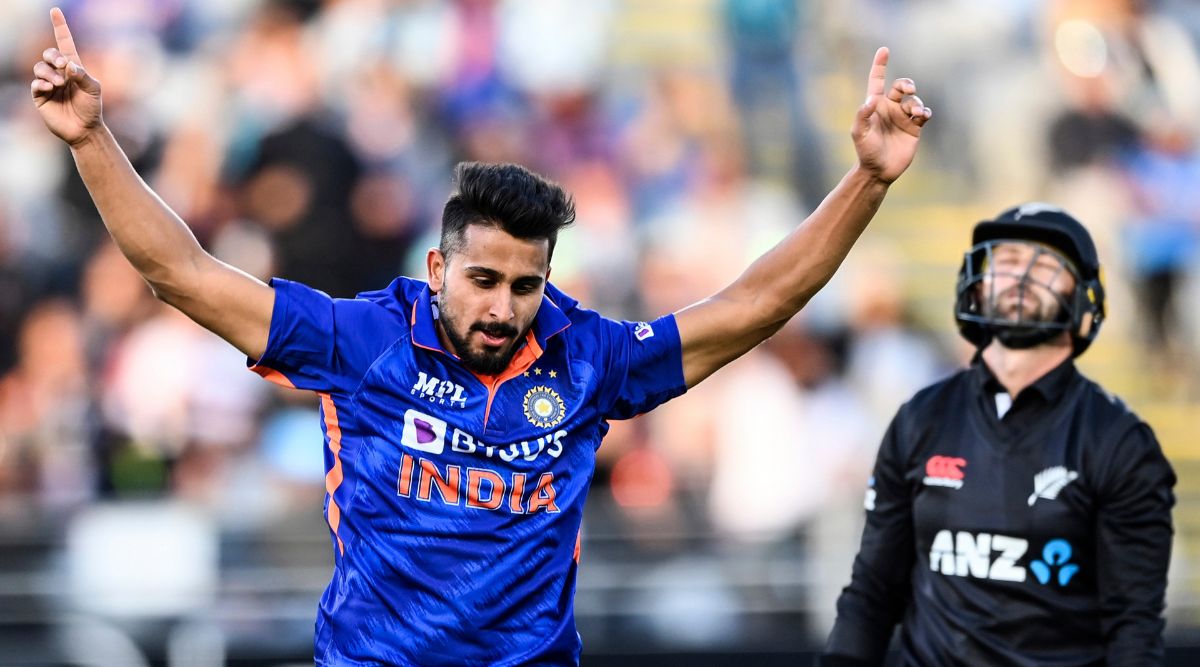 Umran Malik celebrates taking the wicket of New Zealand's Devon Conway during a one day international cricket match in Auckland, New Zealand. (AP)
His love affair with Wankhede had started during the IPL when he bagged a five-wicket haul against the eventual IPL champions Gujarat Titans. The Wankhede crowd was cheering every delivery from Malik. There were oohs and aahs throughout that 24-ball spell.
Vivrant Sharma, Malik's longtime friend and his J&K and now SRH teammate, reveals the claps, whistles and cheers make Malik more dangerous.
"Even on the nets if people start cheering for him, it gives him an adrenaline rush. He will start bowling quicker," shares Vivrant, who was picked up by SRH in the recent IPL auction for Rs 2.6 crore.
160 in nets
"Uska hai ki maar hi dena hai batsman ko aur net pe toh no-ball ka koi concept hai nahi wo 22 yard 18 yard ho jata hai aur agar 4 logo ne waah Umran waah kar diya fir aapko bhagwan hi bacha sakte hai (He just wants to go hard at the batsman and in the nets, you don't have the concept of no-ball, 22 yards reduce to 18, and if few people start chanting his name, then only god can save you," laughs Vivrant.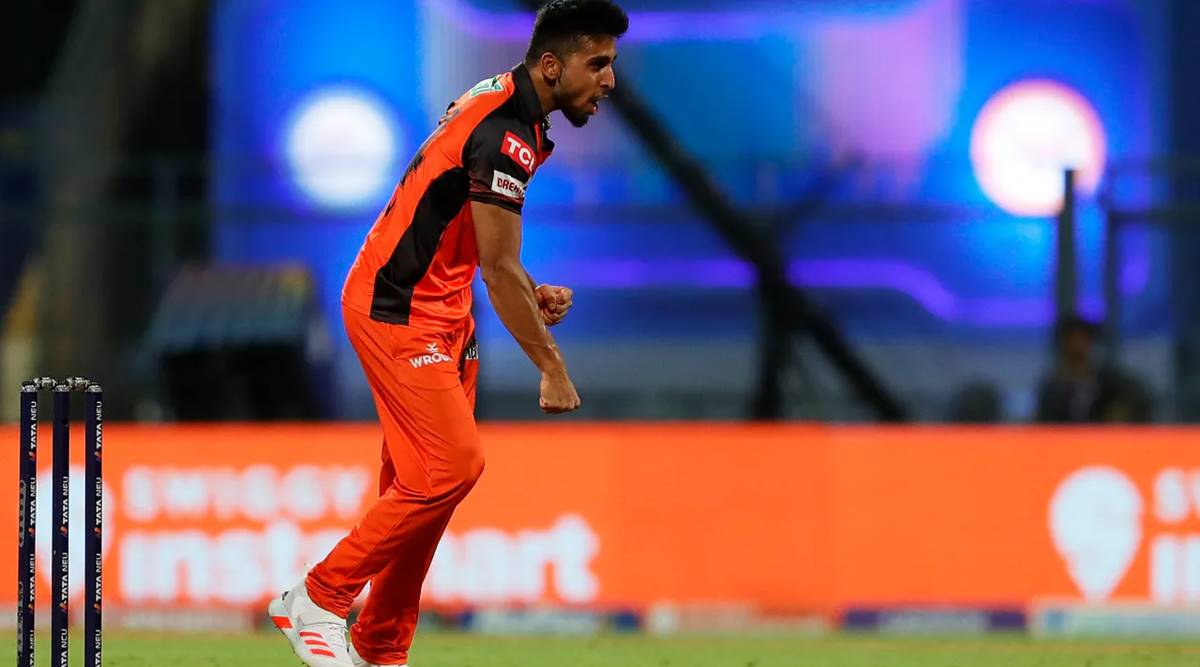 Umran Malik's 21 wickets in his first full IPL season are the fourth-highest overall. (Source: iplt20.com)
Vivrant also talks about how facing Malik has improved his batting. "Nets pe toh Umran 160 daalta hai usko face karne ka baad 135 waale haluwa lagte hai (He bowls at 160 in the nets and after facing him, it is very easy to face bowlers with the speed of 135)," adds Vivrant.
Despite bowling 155 kph last night, Malik is not losing his sleep over hitting the 160-kph mark, says his coach Randhir Manhas.
Umran Malik during the T20 cricket match between India and Sri Lanka at Wankhede Stadium in Mumbai. (PTI photo/speed gun screengrab via Hotstar)
"I spoke to him today [Tuesday] also and trust me he is not losing his sleep in order to reach that 160 barrier. He is a rhythm bowler and someday he might bowl 160 but that will be one ball. His main aim is to bowl all six deliveries in the high 140s," says Manhas.
Malik played only one Ranji Trophy match for J&K this season and then returned to Jammu as he has been told to focus on limited-overs, according to his coach."He has been told to focus on white-ball. The only Test series India will play (for a while) is against Australia and the team management is in no hurry to rush him into red-ball," says Manhas.
Manhas also pointed out a few changes in Malik after the Bangladesh tour.
"He never used to bowl back-of-the-hand slower ones. This time I saw him working on his variations. He was working on his yorkers, slower bouncers and It was a pleasant surprise for me," says Manhas.
Malik's rise in the game has been quick; just five years ago, he was yet to play cricket with a leather ball. And if this rough diamond can be polished properly, the end product promises to be a nightmare for batsmen around the world. The Umran Malik story has just started.