My wife Reena couldn't see Chintu (Cheteshwar) play for India. He was 17 when she lost her fight with cancer. Had she been alive to see him play his 100th Test match, there couldn't have been anyone happier than her.
A wise lady and a doting mother, she could have articulated the inner feelings of a proud parent much better than me. But since she isn't around, I will make an effort to talk about him. I see it as my duty to talk about a son like him. In this day and age, I am blessed to have him.
Chintu is a man of strong character and totally committed to his beliefs and the game he pursues with passion. He has always chosen the hard road and made the right choices. Keeping away from parties and hard drinks isn't easy for the young and successful.
His personality is because of his mother, aunt and guruji. My daughter-in-law Puja too has played a big role in his development. She has been the emotional support that an international cricketer so desperately needs.
Being his father and coach, I have spent countless hours with Chintu. It started during his pre-school days when our family of three would go for post-dinner walks. He would be on his bicycle ahead of me and my wife. He would insist on going to a nearby park that had swings. He would want to be on the swing for hours. I remember the smile of his face when I would give a hard push and he would go flying up.
He developed this blind trust in me and would listen to everything I told him. I never needed to scold him. Since I saw him as a serious cricketer very early, I asked him to avoid playing with kids in the neighbourhood. Tennis-ball cricket, I strongly feel, can make a young batsman develop bad habits. Since the ball bounces, they tend to play cross-batted shots. Cricket is always played with a straight bat.
A young Cheteshwar Pujara with his parents Arvind and Reena. His mother passed away because of cancer when Cheteshwar was 17.
Chintu loved the company of his friends and always wanted to play with them. I didn't stop him. I would tell him to keep wickets. Once in a while, I would check with his friends if he had been batting. He hadn't. Since that day, we have had this mutual trust. I knew we were on the same page. He was as serious about cricket as I was.
There are several times in life I have seen an unreal poise in Chintu in times of grave crisis. The world keeps talking about his temperament and patience when batting, but it doesn't surprise me at all. It was always there in him.
Very early in life, he faced his first big cricketing setback. It all started with him scoring a 300 in an under-13 game for Saurashtra. That year, the India team for the U-15 World Cup was to be picked, so he was called for a camp in Bangalore.
The 300 had created hype around him, and other kids at the camp told him that he would certainly get the captaincy. But on the day the team was announced, he wasn't even in the squad. He would share the news with me and board the train for a long Bangalore-Mumbai-Rajkot journey.
On the way, someone would walk away with his suitcase that had his whites, money and cell phone. Remember, he was just 13. He borrowed someone's phone and informed me that he had no money with him. I reached Mumbai, expecting to see a crestfallen boy. He was absolutely unfazed. He didn't complain, didn't blame anybody for his fate. I too took it easy. We made small talk and moved on.
While at the railway station, I got a call that he had to be in Baroda for a U-16 game. I called my wife to hand over Chintu's whites to one of his Saurashtra teammates. We reached on time. He scored a 100 in that game. When people talk about his ability to bounce back, trust me, I am not surprised.
Beyond the cricket field, he has faced some really tough situations. Had he not been strong, he would have crumbled under pressure, given up the game and drifted in life.
I still remember the day Reena left us. This was after her chemotherapy was over and she seemed on the mend. Chintu was in Bhavnagar, playing an under-19 game. We were shifting houses, so my wife said she would go to our relative's home so she could rest.
Since the Saurashtra team lost early, Chintu called his mother around 2 pm to tell her that he would be returning that evening. Within a couple of hours, Reena got what is called a 'lightning heart attack'. It happened so quickly that she couldn't get up from the diwan and move to the bed. When Chintu reached home, we were a family of two – his mother, my wife and the centre of our lives had left this world.
Years later, Chintu would be reminded of that traumatic day again. While he was undergoing rehabilitation at the National Cricket Academy in Bangalore, I got a heart attack. That day, I was in bed when my heart started beating vigorously. So much so that I could hear it beat like a drum. I called my family doctor Nirbhay Shah, and asked: "What does one feel when he is having a heart attack?". He knew me well and asked where I was. Dr Shah rushed home and shifted me to a hospital.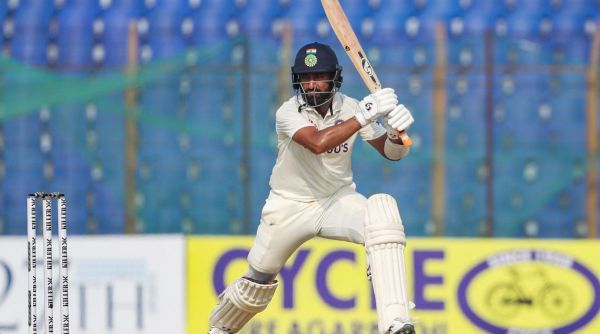 Cheteshwar Pujara (AP)
He called Chintu and told him that I was admitted to a hospital. It is easy to guess his thoughts when he was on the plane. He wasn't sure if the doctor was telling him the truth. He wasn't sure if I was still alive. But he kept calm and reached Rajkot. God was kind to us, this time there was no bad news waiting for him. He was pleased to see me.
The other time when I saw joy in his eyes on seeing me was in South Africa when his hamstring had snapped while playing for Kolkata Knight Riders (KKR). We were keen that he returned to Rajkot and get the surgery done here. But KKR, rather the co-owner Shah Rukh Khan, insisted that Chintu gets treated in South Africa. There was logic in what he was saying. Since rugby players often have this injury, doctors in South Africa were more used to these surgeries.
Shah Rukh was also of the view that Chintu had a great future ahead and should get the best medical support. To convince us, he offered to fly Dr Shah and any number of family members to South Africa. I didn't have a passport so I asked Dr Shah to travel alone. But he insisted that I too should take the trip. All the paperwork was done in record time and I was on a flight to South Africa.
I still remember the smile on Chintu's face on seeing me. There he was alone in a foreign country, confined to the hotel room for days while the rest of the team had moved to the next city for their game. He had sounded depressed on the phone. On seeing me, I could see the joy on his face. It reminded me of the little boy on the swing.
There's another incident that has stayed with me. It was a validation of my life-long work. In his early career, his sixth Test against England, he hit a double hundred in Ahmedabad. Duncan Fletcher was India's coach then. I told Chintu to approach him for tips. He was a great coach, responsible for England's revival.
Later, he would narrate his interaction with the much-respected coach. Chintu asked him, "Sir, do you have any tips for me?" Mr Fletcher's reply was simple: "You must congratulate your father!". Short and sweet. That was a proud moment for me. It was a moment of validation for me. I have played just six Ranji games, and don't have any coaching degree or technical certificate. I learnt the game from watching, soaking up from so many people and my own insights derived from that experience. Now, my son is going to play his 100th Test.
Arvind Pujara spoke to Sandeep Dwivedi