Ravindra Jadeja was lying on the massage table at the makeshift dugout of the MA Chidambaram Stadium after sending down 17.1 overs. Even then, he held on to the red-cherry in his left hand. He stared at it for a while, then closed his eyes for a moment or two – probably the mind was already plotting plans to dismantle Australia – and only when the masseur wanted to attend to his left palm did he toss the ball to the right.
No matter what, he was not ready to let go of the ball. Not even when taking selfies with his Saurashtra teammates or speaking to the media or posing for photos with fans or hugging his former Chennai Super Kings teammate N Jagadeesan. Jadeja didn't want anyone to take the ball from his hand. Why would he?
From the moment he picked the ball up towards the end of the afternoon session for his second spell, the SG ball has been listening and obeying to every order of Jadeja, as he returned with figures of 17.1-3-53-7. While his first spell read 5-0-17-1, his second spell 12.1-3-36-6 sent down either side of tea, shut Tamil Nadu to 133 in the second innings. Set a target of 266, Saurashtra were 4/1 at stumps on Day 3.
On a pitch with variable bounce, where the odd delivery kept low, four of Jadeja's dismissals were bowled, while two were LBW and one was caught at third man. You could imagine how he got his wickets—unerring lengths, unwavering lines, stifling them, sowing doubts, exploiting the variable bounce, mixing his pace. Thus, in his first game after a five-month injury lay-off, he ended the day on a happy note. "When you get seven wickets you obviously feel confident," he would say.
"Taking five-fer in a first-class game is always good. Last time when I was here I took seven wickets against England (2016) as well. I'm happy with what that pitch offered," he added.
Chennai: Saurashtra's captain Ravindra Jadeja during the 3rd day of Ranji Trophy cricket match between Tamil Nadu and Saurashtra, in Chennai, Thursday, Jan. 26, 2023. (PTI Photo/R Senthil Kumar)
(PTI01_26_2023_000302A)
On Day 1 of Saurashtra's Ranji Trophy league fixture against Tamil Nadu, Jadeja had bowled 17 overs without any success. Much of his focus was on regaining match fitness and gradually finding rhythm. He was taking it slowly—those overs coming in three spells of five, seven and five— not pushing himself to bowl those long spells that you normally see.
By the time Jadeja started with the new ball in the second session after Saurashtra were bowled out for 192 in the first innings in response to Tamil Nadu's 324, he meant business. The vigour, which was missing in the first innings, was back. On days like these, forget looking at the scoreboard, just by observing Jadeja you can say he is on song.
There is a certain speed in everything he does. Be it the run-up or going back to the mark or taking a few steps once he sees the ball missing the edge or when it just misses the off-stump by a centimetre. There is a perceptible spring in his jump. There is a slight, sly smile. He would keep pulling up his sleeves every time he collects the ball. There is a bit of mischief in everything he does.
Uneven bounce
More so when the pitch has uneven bounce, where the odd ball climbs only till the shin level or if it just skids and rolls over ankle high. In the first over of Tamil Nadu's second innings, Dharmendrasinh Jadeja already showed what the pitch was up to and Jadeja – leading the side in Jaydev Unadkat's absence – didn't need a second invitation to share the new ball. From being a slow turner on Day 1, the pitch had deteriorated more than what both the teams had expected. If Jadeja needed some confidence, he couldn't have asked for a better pitch than this.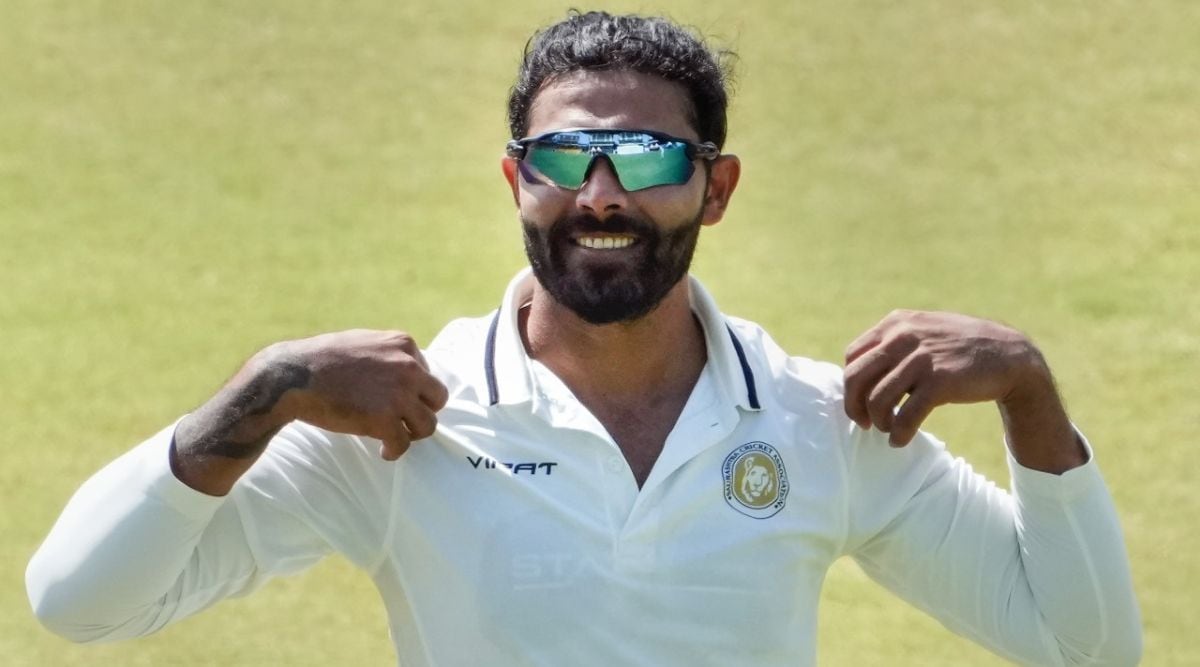 Saurashtra captain Ravindra Jadeja. (PTI)
"The pitch was assisting me you know," Jadeja said almost as a matter of fact. "When we were batting the odd ball was turning, it was keeping low. So I was keen to bowl long spells. I was enjoying it. Even the ball was turning, so I was enjoying it," he said.
Speaking ahead of the match, Jadeja had revealed his intention was to check where he stood in terms of his fitness. Throughout the three days he was in his elements, charging at the ball on the field and hitting three attractive boundaries in his brief 15 from 23 deliveries. "I'm almost there. It is just a matter of a little bit of confidence. Luckily I bowled enough overs, almost 37 in the game. Hopefully I'm good to go now. It was tough on Day 1, but after that as the game progressed, I was feeling good," Jadeja said.
Jadeja getting back to full fitness and getting seven wickets in the innings augurs well for India ahead of the Border-Gavaskar Trophy that begins in Nagpur on February 9. The manner in which Jadeja got his wickets was pleasing to see as he is likely to encounter similar conditions in at least three of the four Test venues. Barring Dharamsala, Nagpur, Delhi and Ahmedabad are known to assist spinners, with inconsistency in bounce being a common theme.
And asked if he was ready for Australia, Jadeja didn't hold back and asserted it in his own style. "Yes, yes, yes. Very much," he said.