The secret of how both Steve Smith and Marnus Labuschagne repelled the Indian spinners lies in their hands. The other factors for sure like: playing late, head over the ball, trying not to lunge or play across, but many good batsmen can do all that. What sets these two apart is the way they use their hands to get bat in angles to get them out of jail even if they have misread the length or in slightly awkward balance.
Consider the last ball of the fifth over. Shami vs Smith. Sensing Smith was stuck on the crease, Shami very smartly hurled that full and also got the ball to tail in very late. For all purposes it seemed to be heading towards the front pad. With most batsmen, after they have found themselves in that position, it would have been difficult to bail out. Perhaps, an ugly uncertain stab can be envisioned.
But Smith didn't panic. Somehow, incredibly, he got his hands working overtime, got the bat at an angle but got enough wood to squeeze it between the blurring ball and the front pad. The difference between lbw and survival.
In some sense, Smith is the most arrogant batsman of the modern era. Not because he thrashes and biffs the ball — many others do it a lot better — but in the way he constantly undermines and teases the bowlers. The drive off the back foot. That last-instant leave. The casual swipe across the line as if he is flicking dirt off his trousers. The sudden decision to go inside-out to balls that he usually smears through the on side.
Then there was Marnus Labuschagne.
He started off with more circumspection than Smith. As if he wasn't quite sure what the ball was going to do or not quite picking it off the hand of the spinner – Axar Patel in particular.
But again, no overt panic. He had a method to fall back on. Initially, he didn't press too far back or lunge forward. Too risky, without reading the ball. Lbw or bat-pad-catch looms with those approaches.
𝑰. 𝑪. 𝒀. 𝑴. 𝑰!

1⃣ wicket for @mdsirajofficial 👌
1⃣ wicket for @MdShami11 👍

Relive #TeamIndia's early strikes with the ball 🎥 🔽 #INDvAUS | @mastercardindia pic.twitter.com/K5kkNkqa7U

— BCCI (@BCCI) February 9, 2023
Instead, he just leaned forward a little, without making any big stride, – those wonderful hands again allowed him to get away with it. Combined with the decision to play the ball late.
When Axar Patel squeezed the ball in, Labuschagne's defense wasn't impregnable. For starters, he faced Axar more than Smith. But the hands were clocking overtime. Watching the ball ever so closely, Labuschagne would get the bat in unusual angles to keep the ball out.
A usually lazy assessment is that both bat similarly identically but not quite. There are some similarities for sure – most of which comes down to the bat-angles and the areas of the field they access for similar balls.
Smith holds his bat up behind him, behind his hips, and from there on, it's a slightly ungainly thrust. Labuschagne's bat flow is much smoother. Ashwin too has talked about in the past that both aren't that similar as it's made out to be.
Nagpur: Australian batter Steven Smith plays a shot during the 1st test cricket match between India and Australia, at Vidharba Cricket Association Stadium in Nagpur, Thursday, Feb. 9, 2023. (PTI Photo/Vijay Verma)(PTI02_09_2023_000023A)
The one common element is their hands. Immensely flexible, they are their greatest ally in keeping the threatening balls out. There were many occasions when a slightly more rigid batsman wouldn't have been able to get out of trouble but these two managed.
Slowly as the session wore on, Smith started to use his feet. Not quite successfully at first, but that didn't matter. It wasn't perfection he was looking for but the need to shift pressure back to the spinners. To say that I am not going to be a sitting duck, you have to come harder at me.
Labuschagne picked up that theme. He didn't quite charge out as much as Smith but started taking the front stride out. Soon, also started to press back as the bowlers started to try adjusting to the forward movement by changing their lengths. Now, the pressure was on the spinners.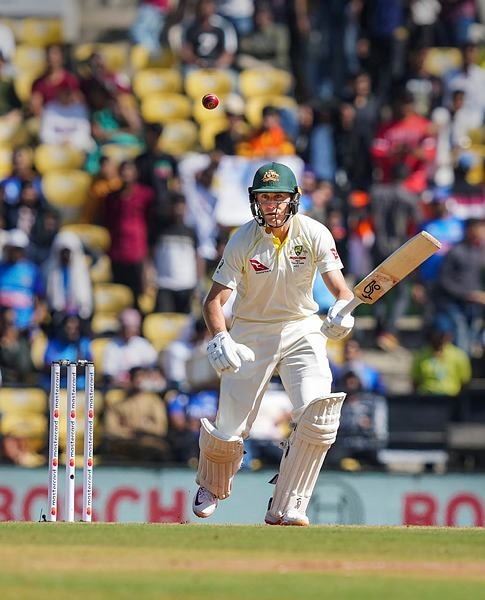 Nagpur: Australian batter Marnus Labuschagne during the 1st test cricket match between India and Australia, at Vidharba Cricket Association Stadium in Nagpur, Thursday, Feb. 9, 2023. (PTI Photo/Vijay Verma)(PTI02_09_2023_000038A)
There was a ball that Jadeja nearly bowled Smith with. It turned ever so slightly even as Smith let his hands and bat stay in the line of off stump. The ball missed the edge by the barest of margin and the off stump too. Both seem to have the ability to put out such deliveries from their mind, and move on quickly.
There was a shot from Marnus in the midst of a neat spell from Axar that said much. Purely on width offered outside off, he leaned back to a full delivery to delicately and deliberately slice-cut it well to the left of backward point. Not at easy to do: the length, the potential to turn, and the risk of outer edge hovering but he went for it.
It's another trait that both are good with: taking risks. Not the conventional slog-sweeps and such but even in defense, the choices they take. It could be a ball on the off-stump line, but they would collapse their hands to steer the ball to point.
Like Mohammad Azharuddin or that wonderful batsman of spin Salim Malik would do. Where others would play the line, Azhar and Malik would manipulate it. More than a trace of that trait can be seen in Smith and Labuschagne.
Couple of years ago, one had met S Sreesanth for a chat on his life out of jail and such. The talk also veered to cricket and suddenly he said something about Smith.
"You are never going to get him lbw, forget it. Never. The best ball is the one leaving him from the off-stump line. Where does he end up despite all that moving about? Off-stump or just outside it, right? So the leg-cutter or a good outswinger that moves away from the line of his body is still the way to do it. Why aren't they bowling it? That away ball can't start from outside off as he would not touch it. It has to start in his line, where he thinks about playing before it moves away."
Why didn't they bowl the leg-cutter? Perhaps, that's Smith's greatest achievement. By doing what he does, he makes the bowler forget the basics. His quick, deft, dexterous hands allow him to manipulate the bowlers. And it appears, Labuschagne too possesses that.