When Ismalinda Eriza walked into the KD Jadhav Hall for the match featuring Kevin Sanjaya Sukamuljo and Marcus Gideon – known around the world by their nickname, Minions – she expected at best 20 fellow Indonesian women to screech their hearts out in support. She couldn't believe her ears when a stadium full of Indians, starting with a group of young outstation fans in Delhi for the badminton, adopted the Minions for the next 50-odd minutes, lending raucous support against a Chinese pairing, willing them onto a win almost from the jaws of defeat.
"I got goosebumps looking around and seeing all Indians get behind our boys, because they are loved so much. This was a special match," Ismalinda said, almost tearing up and grateful for making the Indira Gandhi Sports Complex feel almost like Indonesia's iconic Istora Senayan stadium of her teens.
"Maybe it's because of Susi Susanti, who won gold for Indonesia at the 1992 Barcelona Olympics, and led in so many Uber Cups. But even as a child, I remember going to stadiums and women in head-scarves coming and cheering in large numbers," she says of a legend and a sport that Indonesians adore more than anything else.
"I like it. It's our sport. We are really free in Indonesia, there's gender equality and no one ever stopped us from watching or playing badminton. Everyone plays, like in the park or anywhere, you don't need a field," she says, adding that watching football can get forbidding at times, with a skewed male ratio in stands, "like anywhere else." But badminton stadiums are where everyone joins in the revelry, the women in equal or bigger numbers.
This whole week, Indonesian women in Delhi – partners of diplomats and business executives, students at Delhi University and Jawaharlal Nehru University and the Indian Institute of Technology, and from Chandigarh – have come wielding the inflatable clappers, tiny flags and just letting loose their famous cold-piercing vocal chords, whenever the Indonesians are in action.
Headscarves in sports arenas has been an emotive issue, especially after Iranian chess players refused to don them, signalling their protest for more individual rights. "In Indonesia, it's a matter of individual choice," says Nova, who says the religion of athletes and fans, and dress codes never interfered with sport. "Some athletes compete with headscarves, like a world champion in wall-climbing, archery and equestrian. Some play without, and same for supporters too. No problem," she says.
Headscarfs in sports arenas has been an emotive issue. (Special arrangement)
But where there's badminton, what's certain is a large group of women – toddlers in tow – parking themselves in seats behind their favourites, to create one right din. For a few years now, the quiet and courteous Jonatan Christie 'Jojo' has been a particular favourite.
They reel off reasons.
"Jojo's now World No. 4,"
"Jojo keeps a low profile, and handles fame calmly."
"Jojo's handsome!"
"Name's Jojo, Jonatan Christie," Wiwi, 27, says, like he's next in line to Daniel Craig.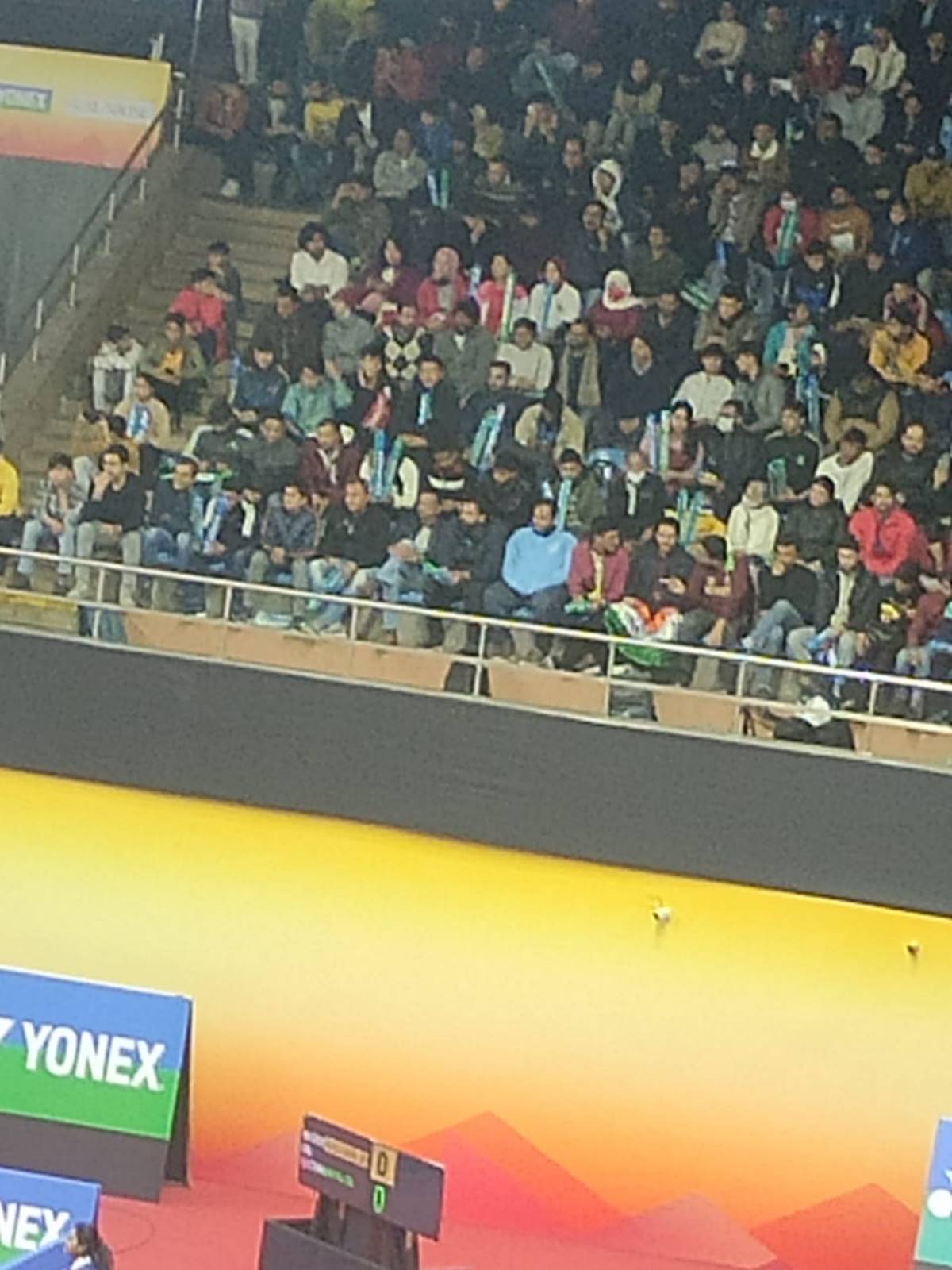 She couldn't believe her ears when a stadium full of Indians, starting with a group of young outstation fans in Delhi for the badminton, adopted their Minions for the next 50 odd minutes. (Special arrangement)
Pride and identity
Nova grew up in Jakarta and said nothing gave Indonesia the sort of global acclaim and respect that badminton consistently does. "Any part of the world, we feel proud to be Indonesians," she says, adding that they almost feel as if they are walking two feet above ground in a badminton stadium. "It's one of our best sports and that's why it has fanatical support from men and women." She remembers Taufik Hidayat's 2004 Olympic title as the zenith of her teen-following of the sport.
"This Indian crowd reminded me of then. But it was the first time I was hearing neutrals support our players – Jojo, Anthony Ginting and Minions with the same noise like we are used to back home. We didn't expect them to clap together with us, and yell out names of our players. It felt very emotional," she says.
Indian chants tend to be simple – and very loud and persistent – repetitions of players' names. With Indian names drying up by Friday, and given the rare opportunity to watch global stars they only see on TV and internet streams right in front of them, Indian crowds have built up a vibe that every foreign name acknowledges in their media interactions.
Entirely non-partisan, every good stroke gets equal applause. And if a player happens to be trailing wretchedly on court, the universally star-struck Indian crowd takes it upon themselves to prop up the lagging player's confidence. Should the score line change, they'll get behind the opponent. But no player complains. It's during one of these tight games against the Chinese when the Minions found support in the Indian crowd that Nova and her friend Indri from the embassy made friends with Indians.
Waiting for their women's singles player Mariska Tunjung, and Ginting to take the court, the group of Indonesian ladies would hope their players gave them a reason to keep coming to the stadium till Sunday. "Wherever we are posted, if there's a badminton tournament, we circulate printouts of schedules, mark our players, get tickets and then the week revolves around our matches," Ismalinda says of a ritual followed by spouses of diplomats across the world.
She reckons badminton and sport gives Indonesians an identity, threads of which they can pick up anywhere in the world. "When people hear Indonesia, they say – 'Oh! Badminton!' That's our favourite way of being recognised. I'm a Muslim, but I don't have my head covered, but Wiwi here covers it. Those are individual choices. Badminton though is in the blood of every Indonesian," Ismalinda adds.