IND vs AUS: Unable to warm up with a few deliveries, and with barely any time to measure and mark their run-ups, due to the pre-game programme of the prime ministers, the Indian fast bowlers looked a touch out of sorts with the new ball. A touch rushed. Some of the Australians too "were rattled" about the lack of warm-ups, opener Usman Khawaja would later say. He certainly wasn't.
"Coaches told me this is going to be the best warm-up of your life. I have no superstitions, no structure, I am go-with-the-flow kind of a guy."
All through the day, Khawaja flowed in his own bubble, wrapping himself in a time-warp, to play a retro patient knock from an earlier Australian vintage, say as an Allan Border would. Behind the cool attitude, however, there is certainly a festering sense of angst at how he was treated by the Australian cricketing fraternity. This is not the racist 'f*****g curry muncher' taunts as a kid that he faced, but as a professional player for Australia. On and off the field.
They questioned his game against spin so much that he says he started to believe them. "A self-fulfilling prophecy. Throughout the middle of my career, I got told I couldn't play spin and that's why I never got an opportunity to play in India. Anytime I got to spin people were like 'you can't play spin'. I probably started believing it myself. I didn't really get support from the people around me at the time. Didn't feel like the team really supported me, didn't feel like the coaching staff and selectors really supported me through that journey. It just made it so hard. Whether I was or wasn't, yes I'm a better player of spin now, no doubt about that, I have more shots, and better defence. Fortunately enough I'm quite stubborn .." For two tours to India, he didn't play a Test. "I carried drinks for all the eight games."
And hence the emotion after reaching his hundred on the last over of the opening day. "I don't think I have smiled as much as I did after scoring a hundred. It was emotional. If you had told me I would score a hundred in India even five years back, I wouldn't have believed you." He smiled, pumped his fist, leapt in the air, and even as Cameron Green was shaping for a high-five, Khawaja demanded a hug. A comforting hug from the Australian cricketing establishment had proved elusive for years.
IND vs AUS: Australia's Usman Khawaja, raises his bat to celebrate scoring a century during the first day of the fourth cricket Test match. (AP Photo)
Off the field, too, there were barbs fired. He had told himself that he was going to be himself in one of his comebacks to the team but found himself not so welcomed. "I would wear colourful belts and you should have seen the backlash from Warner (David Warner) and Watto (Shane Watson) and all these boys," he told the podcast The Howie Games. Not that it deterred him. "So, I started wearing spandex!" If no colourful belts were allowed to hold up the official team pants, he turned to spandex. He had decided not to care what others thought of him.
Those who know him have always talked about his temperament. His mentor Bill Anderson had burst out laughing when talking about Khawaja's Test debut. Inclement weather delayed the start, and Khawaja, slated to bat No.3, had to wait as lunch was called when the first wicket fell. Anderson was curious about what the nervous debutant ate. 'Did you feel like something to eat at lunch after that wait?', "I actually lied on the bench and went to sleep!" 'That's Uzzie for you," Anderson told The Indian Express.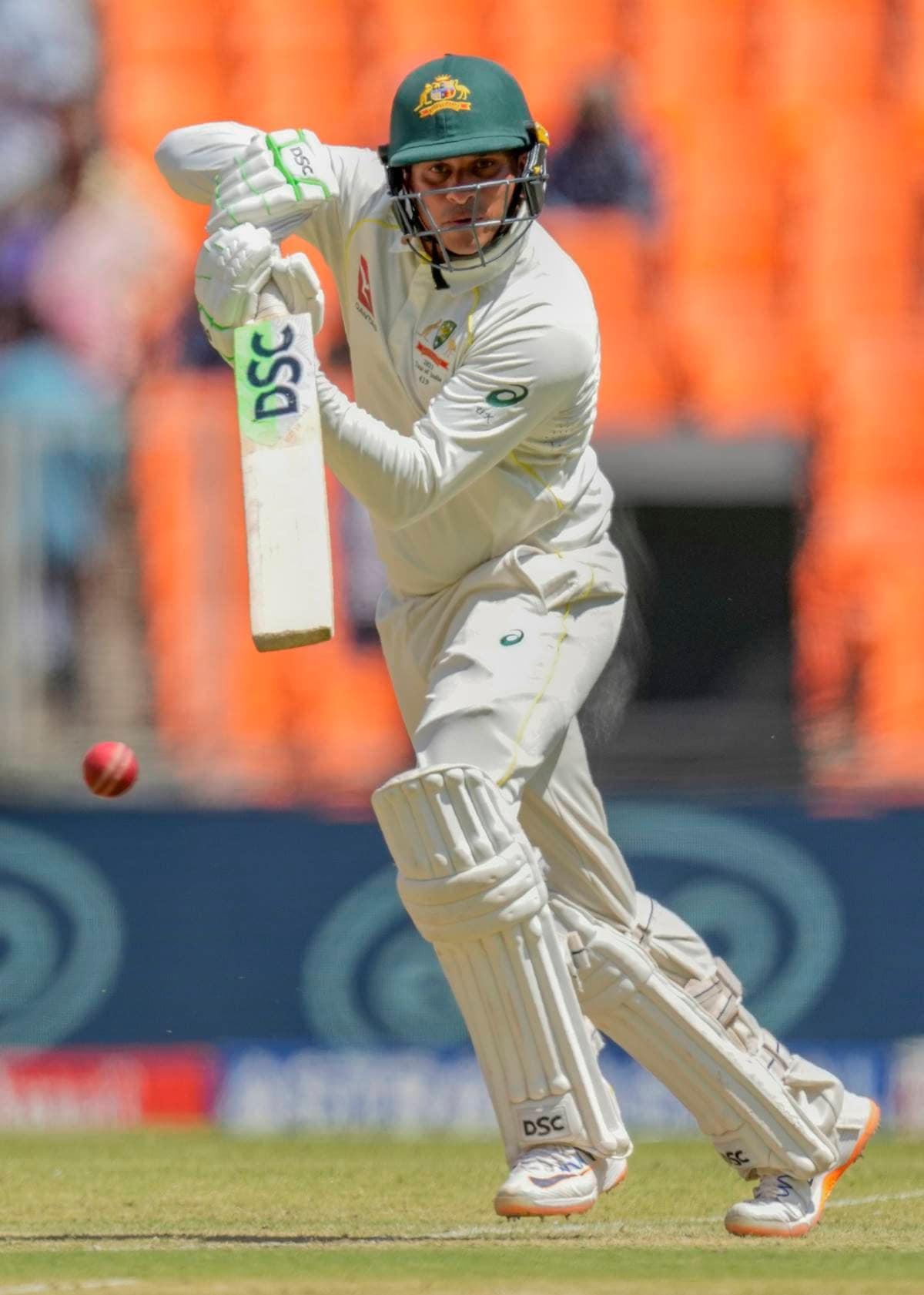 IND vs AUS: Australia's Usman Khawaja. (AP Photo)
It wasn't just his batting, even his movements in between deliveries and overs that caught the eye with their unfussiness. He would gently glide a few steps away from the stumps, and stand relaxed. At the non-striker's end, he would chat with the umpire or just stand cross-legged, resting on his bat. Even in his 90's, when Green hogged the strike for a while, Khawaja seemed unhurried, unfazed.
Not that all that nonchalance and the batting track meant, it was all too easy. He would take different guards, occasionally move down the track to defend or push, or retreat in the crease. He also curbed the itch to go over the top on a batting beauty. "Plenty of times I wanted to hit them over the top but today I said you have to get me out. You have to put your ego aside, it was a mental battle," Khawaja said at the end of Day 1.
Seldom has a mental 'battle' looked so unfussy.
It's a wonderfully simple repeatable technique that he has now. It's also a curious method. He has opened up a touch with his shoulders, but the front foot doesn't spread out — as it can often do with most batsmen when they open up their shoulders in the stance. His feet are still almost side-on. Those opened-up shoulders though allow him to whip and flick anything on the middle and middle and leg with ease. They also help him achieve one more crucial thing. Rarely has an Australian batsman succeeded in taking out his front leg away from the line of fire as quickly and as easily as Khawaja. It's quite a sight. They almost whisk away when he wants to defend and take out the lbw threat. His hands move in swiftly to plonk the bat in line of the ball.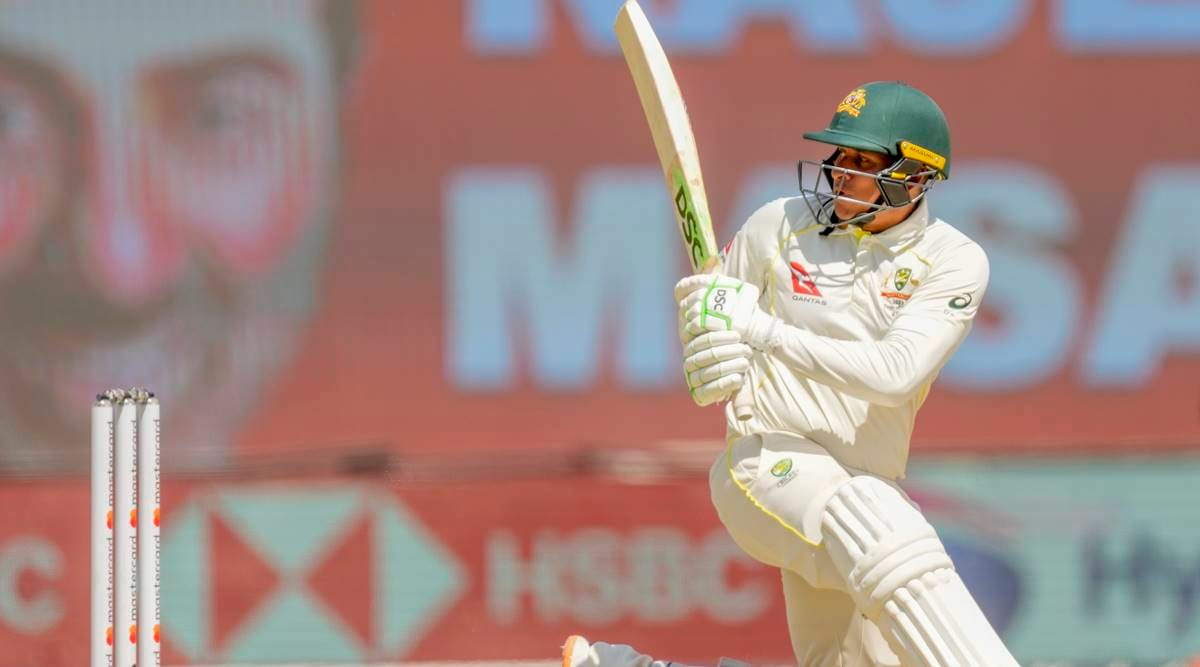 IND vs AUS: Australia's Usman Khawaja plays a shot. (AP Photo)
The ease of it all must be discomforting to R Ashwin and the other spinners, Ravindra Jadeja and Axar Patel. Of the three, Ashwin had started well, ramping up his speed on this surface, taking care not to float it too full, trying to catch him in no-man's land. But remember today wasn't about "ego" for Khawaja. Tuk-Tuk continued. Jadeja made it easier for him for large parts of the day, often short and often on the leg and middle.
At one point Rohit Sharma slumped his head down, holding his knees in despair. Axar's line and length was better, but there was no spin. The ball hardly turned all day but would give a hint of it, raising Australian hopes, at the fag end of the day with the second new ball when Ashwin got a couple to turn just a bit. Ashwin had tried to catch Steve Smith with the away-drifter — a ball with which he has taken out Smith in the past. But the slowness of the pitch and lack of turn even with the off breaks meant there was no real surprise.
Even the wickets that fell came against the run of play. Travis Head, who was dropped in the 6th over by wicketkeeper KS Bharat, fell unable to clear mid-on off Ashwin. Marnus Labuschagne tried to manipulate Shami's length ball towards an untenanted cover-point but chopped it onto his stumps. Smith stabbed a Jadeja ball that skidded on straight outside off, and played on. Peter Handscomb played inside the line of a Shami ball that landed around off and took out the off stump. The dismissals were a surprise, the runs weren't as Khawaja was determined to earn his moment under the Indian sun.
"So many times I was told by other subcontinental parents, 'You will never make it, you're not the right skin colour'. No joke. That might have been true in some respects in past eras and generations, but it just drove me more to prove them all wrong. I wasn't going to look back in regret," Khawaja has written in Athletes voice. "Being racially vilified actually made me stronger in many respects."
"Whenever the Australian team wasn't successful, Uzzy would be the first person to be dropped," his mentor Anderson told this newspaper. "He was the easiest one to drop for some reason and that slowed his progress. That can dent your confidence as a young player. It was a bit of a troublesome period – constantly in and out – but he eventually learnt to handle it with his composure and almost philosophical calmness. All I ever said to him then was that life is full of moments – some good and some not so good and he has to keep believing in himself. There are things in life out of control and selection was one of them. His response was 'yes I understand and I will continue with the cricket dream'." And now on a summer's day in Ahmedabad, one of his greatest dreams of scoring a hundred in India was realised.
First, they race-baited him as a kid, then even his teammates couldn't accept him being 'different', but he proved too stubborn for them to break him.