Late in the day, Mitchell Starc slumped to the ground after releasing a throw on the lunge, and lay there for a few seconds. The ball missed the stumps and Marnus Labuschagne backing up at cover plunged low to stop the ball and lay on the ground crouched. Seconds passed; he still lay as if he was cradled in the womb, and even began to shine the ball on his pants from the same position. Eventually, he pulled himself up, and sighed away wearily to chat with the umpire. It was that kind of a day, that kind of a Test on a pitch that mocked its siblings from previous matches in the series.
Will there be a result on the final day? A dramatic late Australian collapse under pressure and out of weariness, and especially if Usman Khawaja, who injured his leg on the field and didn't turn up to open the innings, doesn't come out to bat? Axar Patel, who missed his third hundred, the easiest of the series, was asked a direct question: "Please tell us frankly, is there any chance of a result? Or will it be a draw?
"I can say we will win tomorrow for sure and it's cricket – anything can happen anytime especially if we take two early wickets and they come under pressure but this isn't a pitch where we can run through them ("Aisa nahi ki hum unhey kol daalenge"). We will have to work hard, remain patient, and keep bowling in the right areas."
He would also admit that India were surprised that there wasn't more wear and tear. "We were a bit surprised with the pitch. Thought there will be a bit of purchase off it but haven't got it. We were surprised that the first innings ended on day 4…There are no footmarks, nothing."
The Australians too could find nothing on the track, except their shadows and sweat. And Virat Kohli cashed in with a serene 364-ball 186, becoming the last wicket to fall with 20 minutes left in the day. Australia sent in Matthew Kuhnemann as a surprise choice to open in place of the injured Khawaja – there is no official word yet on his diagnosis or if he will be fit enough to bat on the final day if needed. Ashwin nearly got Kuhnemann with a carrom ball in the penultimate over but KS Bharat, whose wicketkeeping has been scratchy in this Test, didn't even get his glove to the edge. He was up way too early and was out of position, the ball hit his left knee and fell to the ground.
India's Virat Kohli raises his bat to acknowledge the crowd as he walks back to pavilion after his dismissal during the fourth day. (AP Photo)
Kohli offered Australia no such close moments to rue. Opening up his stance, with the front shoulder facing mid-on, he made precise foot movements to defend, tap, nudge, work the angles for the first half of his innings, until he ended his three-and-half year hundred drought. As he has done through the series, he favoured the on side, working the off spinners with the turn to the leg side, and even the left-armer Kuhnemann not finding any turn and bowling a middle-stump line was worked to the on side. Kohli's wagon wheel has been consistent through the series.
Not long after the hundred was wrapped up with a kiss to his wedding ring on the necklace, his wife Anushka Sharma, the actress, would put up an Instagram post about how it was inspiring to see him bat through sickness and yet showed such composure.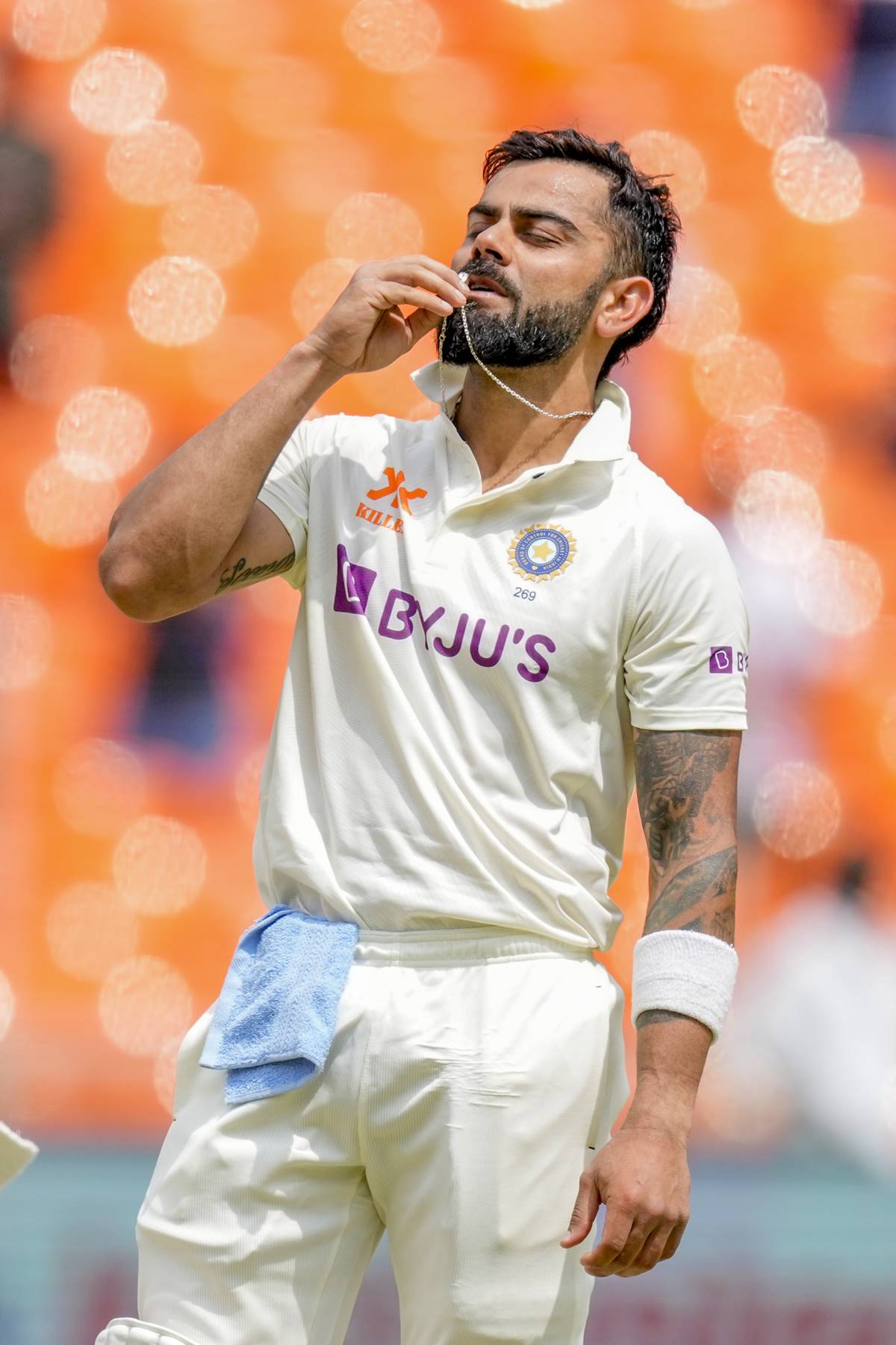 Virat Kohli kisses the locket as he celebrates scoring a century during the fourth day of the fourth cricket Test. (AP Photo)
Composed, he certainly was, even when he began to get more aggressive sometime after his hundred as India pressed for some quick runs. Taking an off-stump guard to the pacers, he whipped, cover drove, but it was a couple of gasp-worthy straight drives that stood out. Starc had barely looked up and across after hurling a dipping full toss, and Kohli would have put a smile on his bat sponsors with a peachy straight drive. Cameron Green too saw the bat-makers name as a straight drive whistled past him.
India will hope that their spinners can start the day like Nathan Lyon did in the morning of the fourth day. As ever, he was splendid with his loop, line, length – only three traits he could control on this pitch. Ravindra Jadeja was troubled with the straighter ones, surviving a couple of lbw appeals, before he miscued a hit off Todd Murphy to mid-on.
Bharat, who has had problems against the off spinners in this series especially on the forward defensive strides, took an off-stump guard, to nurdle the ball around. Something snapped post lunch when Green attempted a few bouncers. Bharat slap-pulled a couple of them beyond the long-leg boundary and played a sparkling cut, with his left leg in the air, as three boundaries flooded in one over. Though Bharat fell, Axar Patel, whose twin fifties on turners were worth their weight in gold, yet again flowed with the bat. He walloped Murphy over long-off and slog-swept Kuhnemann for three sixes over midwicket.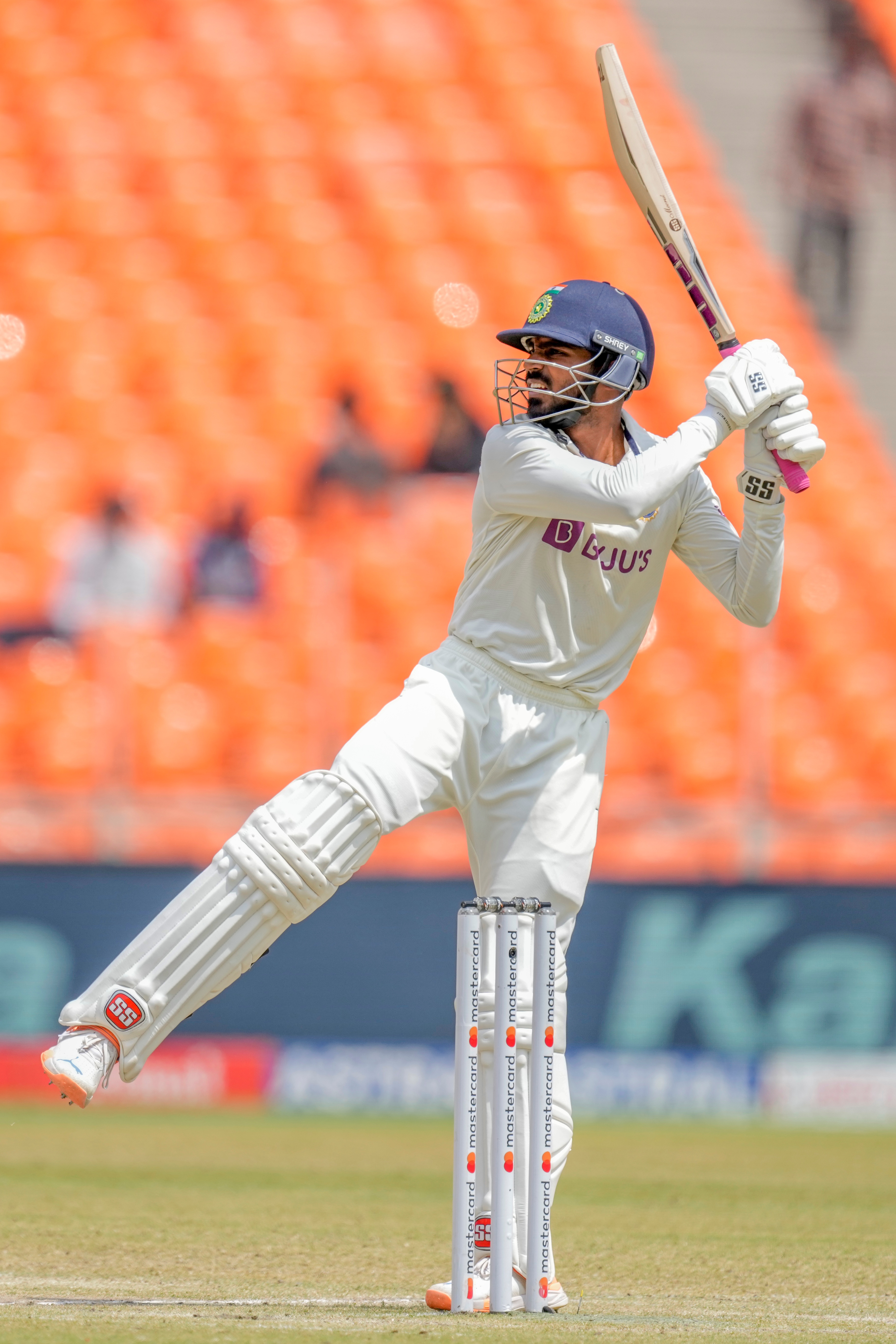 KS Bharat hits a shot during the fourth day of the fourth cricket Test. (AP Photo)
For all purposes this Test should wimp out to a draw; a flat pitch without much wear and tear where even a chief protagonist R Ashwin had talked about a 6-day game as early as day 2. But the fans won't give up hope. It remains a tactical battle, for those who are waging and for those watching, in which no potential event can be disregarded, no romantic possibility discarded. What if Khawaja can't bat, and India wink out a couple of early wickets in the final morning?
Australia started the series like living a nightmare, with panicked selection issues that set the cat among the pigeons within the team who played as if they mirrored the lack of confidence shown by their selectors, until they woke up, under Steve Smith as the captain, in the third Test at Indore. One last Test day awaits them and the question is how will they bat on a venom-less pitch but where there is no chance for victory. If they mess up, a most embarrassing loss on batting beaut lurks. "Cricket hai, kuch bhi ho sakta hai," Axar's lines are as good as any to look forward to the finale.