The last three days have blurred past the Murphy family. Late night on Tuesday, Todd Murphy calls his father Jamie, who is in Moama, Victoria, and tells him that he would make his Test debut in Nagpur. The next evening the family were on the flight to Todd's city of destiny.
"I don't know what we packed in the suitcase. I forgot to even pack my clothes into the suitcase," says Jamie, bursting into a self-deprecatory crackle, his eyes still travel-weary.
Just in time for the Test, Jamie and Co, scrambled to Nagpur, sorting out visa, tickets and booking a hotel. Before the jet-lagged father had settled in, before his body had accustomed to the time zone, he was watching, in as much as shock as joy, his son pick a five-for on debut. With a tired grin, he says: "It was worth all the effort. Just to see him make his debut was great, and to see him pick the wickets was a tremendous feeling."
Nagpur: Australian bowler Todd Murphy celebrates after taking his 5th wicket during the 2nd day of the 1st test cricket match between India and Australia, at Vidarbha Cricket Association Stadium in Nagpur, Friday, Feb. 10, 2023. (PTI Photo/Vijay Verma)
It's the most memorable day of his life—later his son would say the same. But around the same time last year, the day looked distant. Todd, his voice quivering in the excitement of the moment, says: "I have never imagined a day like this." Just two years ago had he made his first-class debut, just six years ago had he decided to pick off-spin bowling. For much of his teenage years, he fancied himself as a batsman, his old man too was a hard-hitting batsman who played alongside Shane Warne for a couple of years at the St Kilda Club, who bowled medium pace.
But a chance meeting with now New Zealand women's coach Chris Howard changed his life forever. Howard was attending an U-16 pathway programme in Rochester, a speck on the map of Victoria, with his son, when he stumbled on Todd.
He queried about him with the local coach, who, according to australia.com.au, told him that "he's a batter that bowls a bit of medium pace, he's just stuffing around". But Howard was certain he had unearthed a little gem, if uncut, and invited him to his club Sandhurst Cricket Club in Bendigo. From there, he made rapid progress to break into the U-19 Australia team and then graduate to first-class cricket, the A team and then being handed the Baggy Green by his idol Nathan Lyon. Todd says it was the A tour to Sri Lanka that made the biggest difference in his life. "Observing everything and competing in the nets and bowling to the Sri Lankans, I took a lot of confidence out of that and reflected and went back, trusted myself a bit more, and thought 'what I've got can be good enough' and believe in that" he says.
But a five-wicket haul on debut was beyond his wildest imagination. His father would banter: "I think he got lucky with a couple of wickets, but we would take that." If indeed he was fortunate with a couple of wickets, he was merely being rewarded for his persistence and diligence. The subcontinent is a hard place to tour for overseas spinners, even Shane Warne would readily admit. The legendary spinner had to wait for nine Tests for his first five-wicket haul in India.
But Todd was neither overawed not overexcited by the occasion. The 22-year-old spinner, custard-blonde haired like Warne, did not attempt the extravagant, did not rip his fingers for extreme turn, and resisted the temptation to experiment. "Please, please, don't compare Warnie and me," he implores the media.
A supreme sense of self-belief and self-awareness shining through him, he bowled what the surface and the context of the match demanded, strangle the batsmen, probe tight length, bowl within the stumps, and not bowl gift balls. He leaked just 10 fours in the entire game, not a single six was struck off him, which reflects his unwavering discipline, his ability to pound one area of the pitch consistently and relentlessly. He hardly bowled full, or provided width to cut, and was unerringly on the stumps. Not too many off-spinners have bowled as effectively as Murphy in their maiden India trip, fewer still have bargained a five-for. Jason Krezja did pick eight on debut at this very ground, but he conceded 208 runs too at an economy rate of 4.90.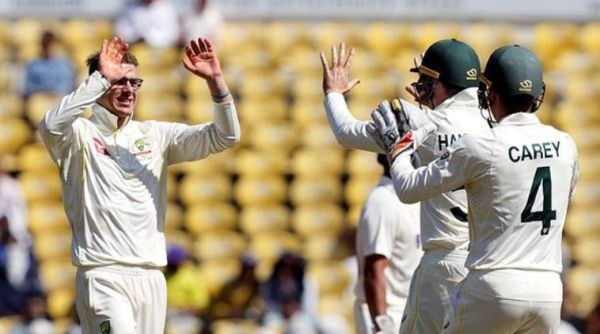 Nagpur: Australian bowler Todd Murphy celebrates with teammates the wicket of Indian batter Cheteshwar Pujara during the 2nd day of the 1st test cricket match between India and Australia, at Vidarbha Cricket Association Stadium in Nagpur, Friday, Feb. 10, 2023. (PTI Photo/Vijay Verma)
The biggest difference between him and Lyon, apart from discipline in length, was that Murphy bowled considerably quicker, some of his balls nudging 95kmh. He was also flatter through the air. It was what the slow-turning surface demanded too. Lyon was extracting more turn but batsmen had ample time to hang back and play with the turn. With Todd, they were forced to play on the front-foot, stretch out to the pitch of the ball and block. His methods were unfashionable but profitable on the surface, and kept Australia in the game until the unbroken eighth wicket stand of 81 runs between Ravindra Jadeja and Axar Patel put the game seemingly beyond their grasp.
All five wickets wore the stamp of his method than magic. He devoured KL Rahul towards the end of Day One with the one that gripped and turned, aided partially by the surface. Then in the morning, he made one turn back into the pads of Ravi Ashwin, a master off-spinner himself, after locking him down with those that slid away with the angle. The scalps of Cheteshwar Pujara and Virat Kohli owed to the batsmen's indiscretion or rather clumsiness, but perhaps it could have been him laying a ruse too. Starve them and feed them with leg-side munchies. He made KS Bharat push forward with the pad in front of the bat to nail him in front of the wicket.
Whatever be it, luck or deception, the Murphy household would take it. And for them the eleventh-hour scramble for flight and Todd's five-for on debut would all seem like a day out of a fairy tale that would take time to sink in.