After returning home on Saturday evening, Kiran Tarlekar switched on his mobile and was surprised by the flood of messages from well-wishers. His boundary-rope acrobats that would have made seasoned footballers proud had gone viral on social media. The best was yet to come, as Sachin Tendulkar shared the video on Twitter. And all hell broke loose and he became a social media celebrity of sorts.
In the past three days, his phone has not stopped buzzing, and he has given at least 100 interviews. "Cricket ke god Sachin Tendulkar ko mera catch acha laga, abhi life mey aur kuch nahi chahiye (Sachin Tendulkar mentioned my catch, what else you need in the life)," Taralekar tells The Indian Express over the phone from Belgaum, a sleepy town in northern Karnataka.
This is what happens when you bring a guy who also knows how to play football!! ⚽️ 🏏 😂 https://t.co/IaDb5EBUOg

— Sachin Tendulkar (@sachin_rt) February 12, 2023
In the video, the Sairaj Warriors player is seen leaping over the boundary-rope and bicycle kicking the ball away from the ropes before completing the catch to dismiss Narendra Mangura of SRS Hindustan in a local cricket match. Praise flew from far and wide. Former England captain Michael Vaughan has tipped the catch as the "greatest catch of all time."
Surely the greatest catch of all time … 🙌🙌 pic.twitter.com/ZJFp1rbZ3B

— Michael Vaughan (@MichaelVaughan) February 12, 2023
"Plan ye tha ke six nahi hone dene hai, but jab ball boundary ke udhar chala gaya maine socha hero ke maafik kick maar ke isko andar rakhta hun (The plan was to not get it over the boundary rope, but when I lost the balance I thought let's try a flying kick like a hero to keep the ball in the game)," recalls Tarlekar.
"Kismat sahi thi ki ball seedhe Kunal (fielder) ke haathon mey gaya ( I was lucky that it went straight to the hand of Kunal)," he adds.
Absolutely outstanding 👌👌😂 https://t.co/Im77ogdGQB

— Jimmy Neesham (@JimmyNeesh) February 12, 2023
Tendulkar tweeted: "This is what happens when you bring a guy who also knows how to play football." But the 28-year-old, Tarlekar don't play football. He credits his agility to the preparation for the physical exam of the Indian Army. "Mere papa Indian army mey they, mera bada bhai army hai (My fatherwas in Indian Army. My elder brother is in army). Mai bhi army join karna chahta tha aur trainning ke time 10 km bhaag jaata leta tha bas wahi se fitness ka nasha chadha (I also wanted to join the army. While doing the preparation, I used to run 10 km every morning and from there onwards only, I have got his addiction of fitness). Still, he runs five kilometres a day.
Sparking debates
Tarlekar's catch has sparked a debate about whether it was out or not out. Gajanan Jainoji, who is a producer for SportsOn, which broadcasts the match live on their Youtube and Facebook channels, says the catch was referred to the third umpire and then given out. "The decision was referred to the third umpire. After watching the replay from three angles, the umpire gave it out. If you see the video closely, you can his foot was not on the ground when he kicks the ball. We telecast hundred of matches in a month and have been doing this for years, but I have never seen anything like this ever," says Jainoji.
Screengrab: Kiran Tarlekar bicycle kicks the ball back from outside the boundary.
"I even got a call from the Mumbai Indians office, they wanted the video to use it on their social media. BBC, SKY, and all the other global channels are also showing it," he adds.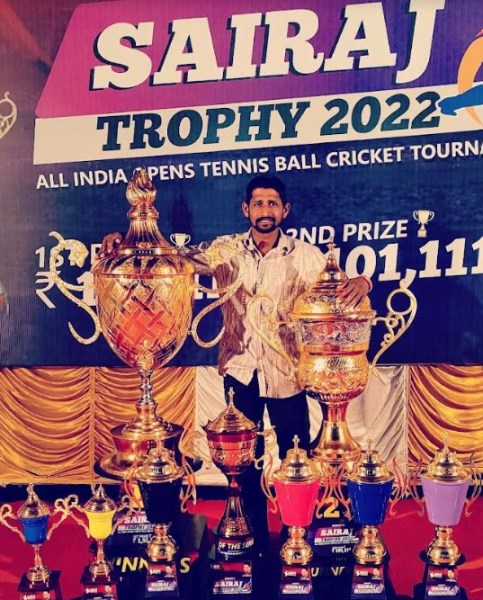 Kiran Tarlekar posing alongside few of the many accolades he has garnered in Tennis ball cricket over the years. (Express photo)
Playing tennis ball cricket is a profession for Tarlekar. The money he earns playing from the tournament he uses to pay for his education and also helps his father, who now works as a security guard. "Din ke teen ya chaar match khel leta hun (I play three or four matches every day). Alag alag tournament hote hai 6 overs ke 8 overs ke 10 overs ke aur prize money bhi different hai. (There are three or four tournaments simultaneously going on and each tourney has different prize money as well)," says Kiran, who is pursuing an M.P.Ed (Masters of Physical Education) and prize money helps him to cover the fees. He gives the rest of the money to his mother.
In 2019, Tarlekar bowled to the likes of Ishan Kishan, Priyank Panchal when they were in Belgaum playing for India A against Sri Lanka A at Belagavi International Cricket Stadium in Belgaum. "I was a net bowler for Sri Lanka A and after the match, I even bowled at India players Ishan Kishan and Priyan Panchal," he says.
In the past few days, life has changed for Tarlekar, he has hit stardom of his own in Belgaum, but he has only one wish "to meet Sachin Tendulkar." "Sachin sir ne tweet kar diya ab bappa ne chaha toh kabhi bhi mil bhi loonga (Sachin sir has tweeted about me and by the grace of Lord Ganesha I will also meet him someday)," he signs off.