Bruno Fernandes has been the captain of Manchester United for the majority of the 2022-23 season in the absence of Harry Maguire, who lost his regular starting place. However, the Portuguese superstar's recent performances (especially the ones against Liverpool and Southampton) have led to question marks and plenty of criticism.
Former United captain and current pundit Gary Neville has come down hard on Fernandes and even labelled him as an "embarrassment."
"I think some of his behaviour in the second half in the Liverpool game has been a disgrace," Neville was quoted as saying by the Mirror.
While it is true that the midfielder did not have the best of days during the last two Premier League matches, what is worth noting is that his on-field leadership qualities have come to focus. Frequent demonstrations and appeals for penalties have caught the eye of fans, who have been quick to point it on social media.
Europa League mode: 🔛👊#MUFC || #UEL pic.twitter.com/eu2beUWGMi

— Manchester United (@ManUtd) March 15, 2023
Opposition fans (during the encounter against Saints) enjoyed the Portugal star's misery even more and sang, "he's going to cry in a minute" after seeing his reaction. Fernandes' agony summed up United's misfortune in the match against the Premier League's bottom team. They were unable to break through and find a goal. After the clash against Southampton, United will return to Europa League action when they face Real Betis in the second leg of their last-16 tie on Thursday.
But Fernandes will remain Manchester United captain, Erik ten Hag has confirmed, despite criticism of the midfielder.
At the same time, it's triggered a debate: if not Bruno, then who?
🎥 Relive the best bits from the reverse fixture against tomorrow's opponents…

Ft. @B_Fernandes8 🔥#MUFC || #MUNSOU

— Manchester United (@ManUtd) March 11, 2023
VARANE
Manchester United's Raphael Varane is presented to fans before the match. (Reuters)
and David de Gea are front runners, while Casemiro is another name who has had a massive impact on the dressing room.
Frenchman Raphael Varane is undoubtedly one of the frontrunners to wear the armband at Old Trafford. Varane is second only to Casemiro in terms of club success and is also a World Cup winner. Recently in a match at Anfield, he was spotted pleading with his teammates to applaud the heartbroken away fans even as Fernandes stormed off into the tunnel. However, one area of concern is his injury problems which tend to keep him out of action.
CASEMIRO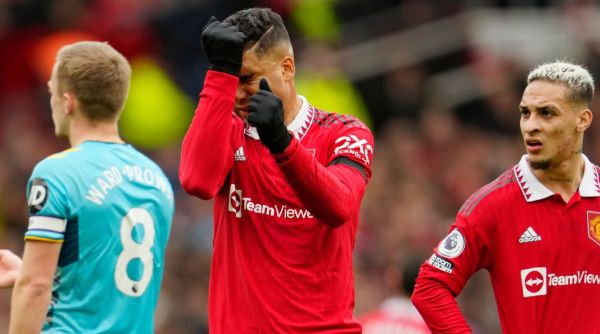 Manchester United's Casemiro reacts after being shown a red card by referee Anthony Taylor during the English Premier League soccer match between Manchester United and Southampton at Old Trafford stadium in Manchester, England, Sunday, March 12, 2023. (AP Photo/Jon Super)

Casemiro presents Ten Hag with an interesting choice since the Brazilian has been arguably among the best midfielders in the world. In addition, he has a glittering trophy cabinet with five Champions League titles. His role in the central midfield allows him to impact the game and inspire his teammates. While he is not injury prone, his fouls often lead to red cards and subsequently missing games.
RASHFORD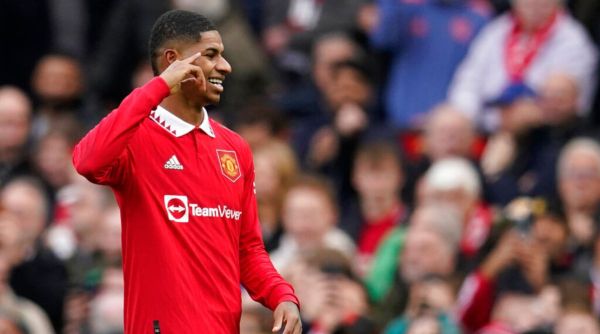 Manchester United's Marcus Rashford celebrates after scoring his side's second goal during the English Premier League soccer match between Manchester United and Leicester City at the Stamford Bridge stadium in Manchester, England, Sunday, Feb. 19, 2023. (AP Photo/Dave Thompson)
With a shortage of options, the only other viable option for Ten Hag would be his star forward Marcus Rashford. The England player has experience leading the team – when he was the captain during a 3-1 loss to Manchester City and helped England defeat Romania 1-0 in 2021.
FAN FAVOURITE
According to a poll by Manchester Evening News, Casemiro is the fan favourite to take over as club captain. The Brazilian claimed 44.2 percent of the vote, with Fernandes standing second with 35.8 percent. The third place went to David de Gea, who received 10.7 percent of the vote. The remaining 9.2 percent was split between the likes of Lisandro Martinez, Raphael Varane, and Luke Shaw.
The Premier League may be out of reach, but United can still win three trophies with the team in contention for the Europa League and FA Cup. Against Betis, United (with a seizable lead) has a chance to get the season back on track and also a chance to make a change of guard in terms of the leadership.