Sonam, the 18-year-old new youth national record holder in 2,000 metres steeplechase, delivers parcels door-to-door in Delhi's Kotla Mubarakpur area when she is not training. Her father works in a brick kiln in Bulandshahr, and her mother is a farm labourer.
It has been a journey of battling odds. From a one-room house in a Dalit settlement in Hurthala village in Bulandshahr district of Uttar Pradesh, to the top of the podium at the Khelo India Youth Games in Bhopal with her record-breaking run of 6 minutes and 45.71 seconds.
Sonam is rated highly because she bettered the decade-old mark of Parul Chaudhary, currently India's best steeplechaser.
#KheloIndia
18-year-old new youth national record holder in 2,000 metres steeplechase Sonam's father works at a brick kiln about 2kms from their village in Bulandshahr, UP.
Video credits: @AndrewAmsan pic.twitter.com/t8uLgPSZ21

— Express Sports (@IExpressSports) February 9, 2023
After her return home from Bhopal, she was taken on a 5-km victory parade to her village in an open-top jeep, where she garlanded a statue of B R Ambedkar as her family stood beside her.
"You can't dream big when you aren't even sure if you will get your next meal," said Sonam, the fifth of seven siblings.
It was difficult to put food on the table for the large family which depended on her father's Rs 300 daily wage.
Sonam's mother, Kashmiri Devi, works two jobs – on the farm and looking after buffaloes. "When a buffalo gets pregnant, it stops lactating until it gives birth. So during this period, we feed and take care of the buffaloes owned by other people. They pay us a small amount," she said.
Sonam's father working in a construction site. (Andrew Amsan)
"I would often sleep with an empty stomach. When the price of potatoes fell, my mother would buy them in bulk. She would boil and dry them in the sun so that they lasted longer," said Sonam.
The 18-year-old was bitten by the running bug when she watched boys from her village train for the Army. "You toil so much in the field, if you put in the same effort in sports, you will go far," one of the trainees told Sonam.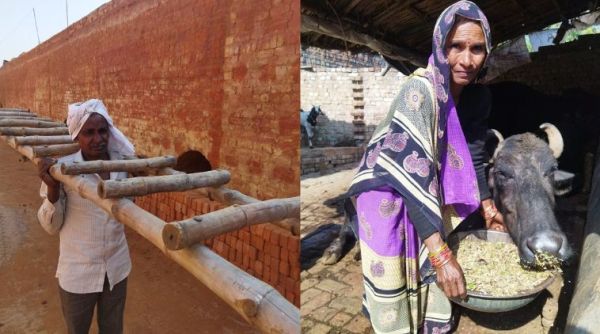 Sonam's father on the left and mother on the right. (Andrew Amsan)
Her father, Vir Singh, saw it as a window of opportunity for Sonam. "I didn't want my daughter to have a life like mine… We have to cover the furnace with sand and walk over it. If even one brick gets loose, we will be sucked in. The soles of our chappals melt due to the heat. We tie wooden planks on them. Apart from the heat, we inhale so much dust that everyone working at the brick kiln has breathing issues," he said.
So, four years ago, Sonam moved to her uncle's house in Ghaziabad, where she started training at the local stadium with an active athlete. But strict rules on who could train at the stadium proved to be a hurdle, and moving to Delhi was the only option.
"I had only heard of the Jawaharlal Nehru Stadium. I was told that only top athletes train there, so I wasn't sure if I would get an entry there," Sonam said. But Delhi state chief coach Dinesh Rawat spotted talent in the youngster and backed her.
She faced another curveball when the pandemic hit. The brick kiln her father used to work at shut down temporarily. Sonam then wanted to help her family financially.
"Our neighbour (in Kotla Mubarakpur area of Delhi) told us there was a job available — delivering vegetables from the mandi to housing societies nearby. People were scared of coming out of their houses due to the pandemic, so there was a demand for delivery people," Sonam said.
There isn't a lane in Mubarakpur Kotla that Sonam isn't familiar with. "Many people in the area recognise me as a delivery agent. But I hope that with this medal, people also realise that I am a professional athlete," she said.