'Have any of the batsmen told you, 'kya Rahul bhai, you played on better tracks and averaged 50, hit hundreds; and we are been given this kind of pitches (turners)?' A question popped up at India coach Rahul Dravid during the pre-game media interaction. "Diya ja raha hai matlab, (given these kind of pitches, means what)" Dravid laughed before adding, "No one likes it in extremes, right? It happens. I don't want to divulge personal conversations in public but they all understand the situation – that pitches have become challenging all over the world. It's for the WTC qualification. They (batsmen) want to win and qualify as much as our bowlers. It's not like they don't want to qualify."
In the last 29 Tests, Indian batsmen made only 13 hundreds, with Rohit Sharma and Rishabh Pant hitting three apiece. At home, the numbers plunge even more, with only five tons in 18 innings.
Though the coach did say that the batsmen also want to qualify and they are in with the plan, it wouldn't be easy to accept and try to get on with it. Careers are on the line for some. Think KL Rahul.
For others, reputation is at stake. Think Virat Kohli.
Kohli last had a Test hundred three-and-half years ago, 41 Test innings ago.
Indian captain Rohit Sharma, left, talks with coach Rahul Dravid during a practice session before their fourth test cricket match against Australia, in Ahmedabad, India, Tuesday, March 7, 2023. (AP Photo/Ajit Solanki)
Cheteshwar Pujara too hasn't really prospered, though his wondrous knock in the last innings of the last Test was probably his best batting performance in a decade in India.
And Ajinkya Rahane lost his spot. The dismissal of Suryakumar Yadav, the toast of India after his white-ball exploits, in the first Test, lunging, driving at thin air, and losing his stumps left such a dire image that no one has talked him up to be included in the series after that.
The influence of World Test Championship on the nature of the home pitches around the world was the theme of Dravid's musings. "There is a huge premium on results. You draw games like the one in Kanpur against New Zealand. That's a setback. Every team is getting results at home. There is a premium on getting wins over draws; there is no question about that."
When a question was asked that the runs tally has come down solely because of the pitches or due to a decline in the batting standards, Dravid rose in defence of his tribe. "I think the conditions have been pretty challenging for batsmen. Not only spin. Data and stats prove that last 4-5 years, there have been some difficult conditions around the world. Not just in India. The batting has been tough."
It raises the question about what is the thought behind the pitches loaded in favour of spin. The Indore crumbler of course got out of hand as pitch preparation can't be done in laboratories.
If India has two of the best spinners going around the circuit in R Ashwin and Ravindra Jadeja, with a third Axar Patel no mug either, would you demand these quality spinners to use their skillsets from a slightly more normal track?
Perhaps, had the Indian batsmen been more proficient against spin, then the current plan is easily understandable. But the overall results do side with India. They have lost just three home Tests in a long time. Generally, the visiting batsmen have been far poorer than the Indians and have been shot out for far fewer.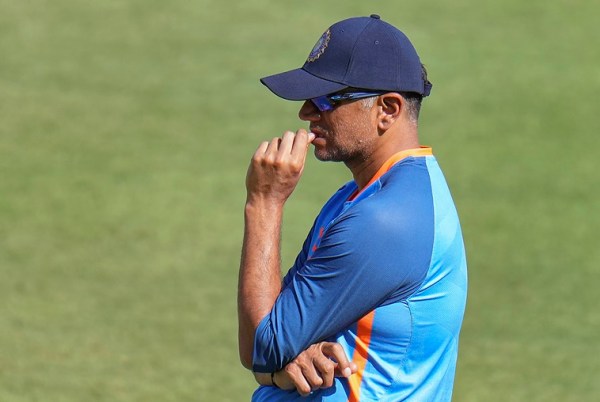 When a question was asked that the runs tally has come down solely because of the pitches or due to a decline in the batting standards, Dravid rose in defence of his tribe.(PTI)
Another way to look at this is: by loading the pitches in favour of spin, are you risking making the likes of Todd Murphy and Matthew Kuhnemann into giant-slaying venomous tweakers? Especially, when the Indians are a bit iffy against spin. In some sense, India has helped Australia, struggling to find fit seamers, overplay their spin card without much worry. Still, it does seem that Dravid would take the 2-1 scoreline as of now.
Dravid believes the benchmark for batting has got tougher, and one has to be realistic in the assessment of their performances.
"It's realising about what is good performance on challenging pitches- not only here but in the last 3-4 years all over the world the pitches have been challenging. It's understanding what the benchmark is, and what the standards are. A really good performance can change the game. We saw that with Rohit's performance. It's being realistic about our batsmen's averages. It's about backing our batsmen and making them understand that conditions are the same for both teams. And making them do something really memorable. 60-70 might be really special."
The Ahmedabad pitch seems more 'normal' and now we shall find out for sure the answer to the question about trusting the skill-set of Indian spinners. The batsmen are likely to find a pitch not that loaded against them; will they be able to turn out better performances? Shubman Gill needs to cement that opener's spot. Kohli needs to convert his starts and make them count. Pujara has to churn out a big one. Shreyas Iyer doesn't have to try to play the boy-on-a-burning deck knock and construct a Test knock.