"Bhaiya, captain toh aap hai…."
The conversation between Rohit and Ishan Kishan at the end of the first ODI against New Zealand with Shubman Gill looking on ended with the trio bursting into belly laughs. But it presented a food for thought.
1⃣ Frame
3️⃣ ODI Double centurions

Expect a lot of fun, banter & insights when captain @ImRo45, @ishankishan51 & @ShubmanGill bond over the microphone 🎤 😀 – By @ameyatilak

Full interview 🎥 🔽 #TeamIndia | #INDvNZ https://t.co/rD2URvFIf9 pic.twitter.com/GHupnOMJax

— BCCI (@BCCI) January 19, 2023
Was even a double hundred not enough for Kishan to get at least a game's run at the opening slot? Gill, who is backed by Rohit since the Sri Lanka series, had crushed any questions coming his way with a 70, 21, 116 & 208 in the next four innings.
And as things stand, it is Gill, who will walk out with Rohit at the top when the World Cup commences in October.
In a batting unit that is beginning to have a settled outlook, the only concern is the lack of triple digit scores next to Rohit. The India captain is without an ODI century in the last 17 ODIs, with the last one coming way back in January 2020. From 2017 to 2019, Rohit alone hit 18 tons in the format, more than anyone else around in the world. It is also the period where Rohit grew as an all-format batsman, making important runs at home and abroad even as Virat Kohli struggled.
Rohit will next be in action. (File)
However that seems a long time ago as cutting across all three formats, Rohit has now gone 51 matches without a century. All the attention on Kohli's century drought meant Rohit flew under the radar. And in Shikhar Dhawan, that there was another struggling opener meant, Rohit got a bit of leeway.
"I think we should talk to him in the same space like we used to when Virat didn't get a 100 in last three and a half years," former India batsman Gautam Gambhir said. "We should be equally hard on Rohit because 50 innings in international cricket is quite a lot," Gambhir said on Star Sports about Rohit's recent form.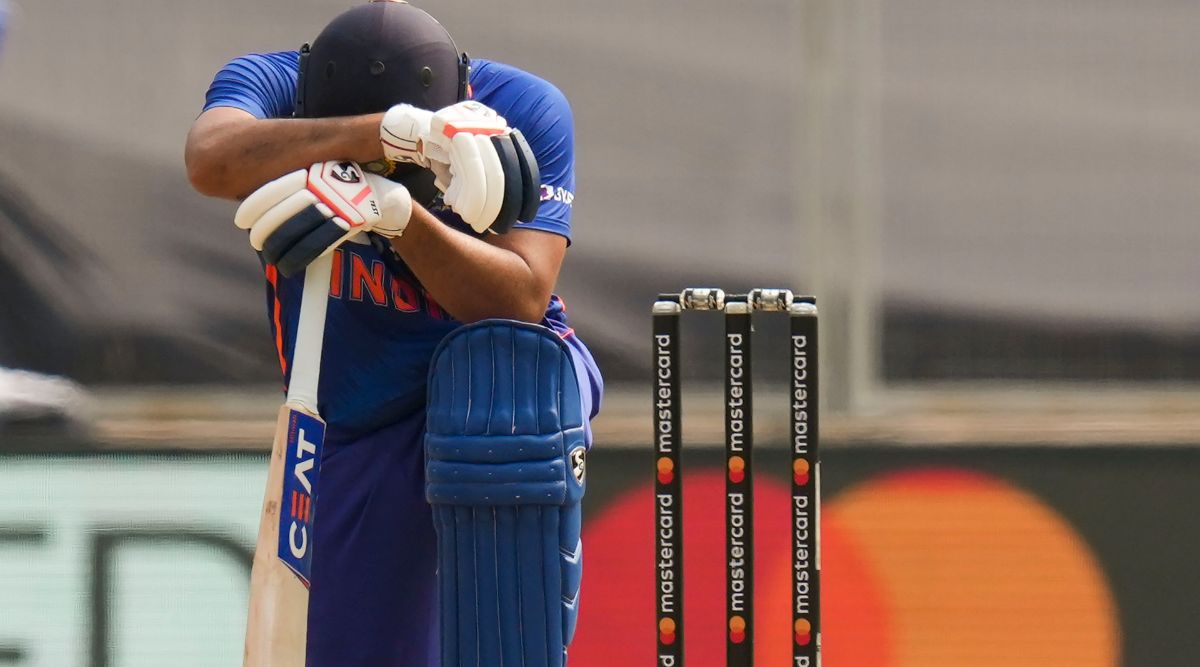 Indian captain Rohit Sharma reacts after losing his wicket. (PTI Photo)
"It's not that you didn't get a 100 in one or two series, and that is one thing that is missing in Rohit's game from the last World Cup. This time he's looking in good form, he's hitting the ball well, but he has to convert. Virat has got it (form) back and Rohit needs to get it back at least before the World Cup because these two guys will be extremely important if India has to go all the way and win the World Cup," Gambhir said.
Setting the tone
Since taking over as India's all-format captain Rohit is yet to score a century and it gives space to whether the added burden of responsibility has to do with it. But more than that, it also the period where India have gone about changing their approach in ODIs. For long, the criticism against the top-order has been their reluctance to play aggressively from the start. It is an aspect that Rohit has been clear about changing, and has even taken the responsibility of showing the batting unit how it has to be done.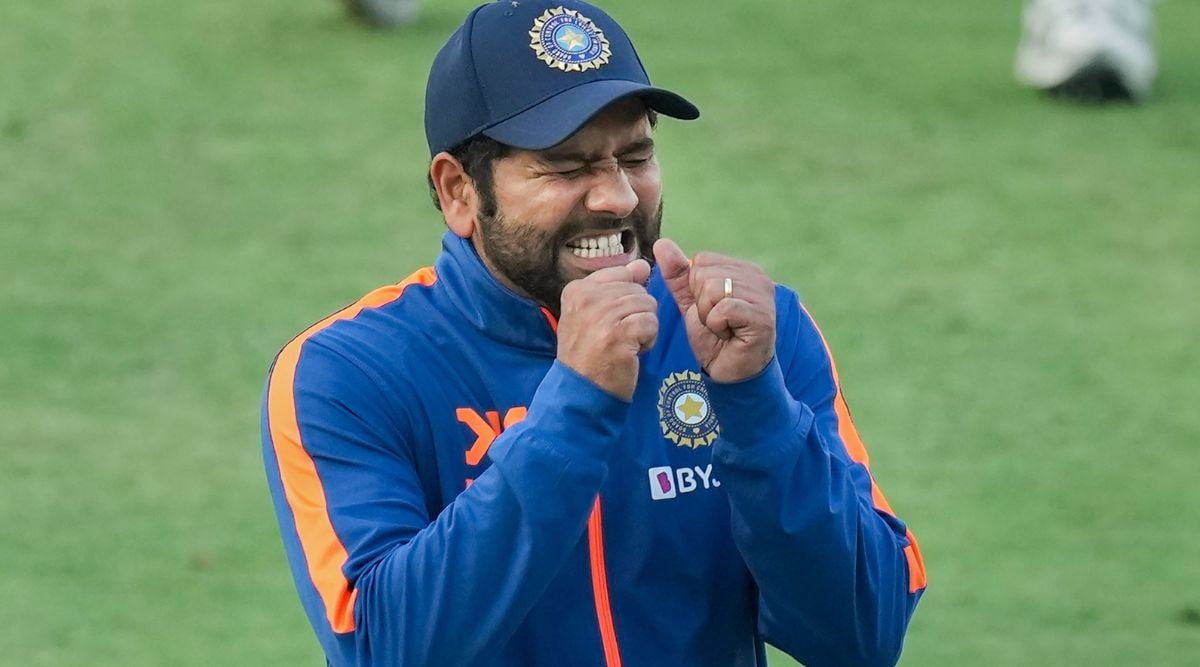 Indian captain Rohit Sharma during a practice session. (PTI)
While hundreds have gone missing, Rohit has upped his strike rate at the top. In 2022, Rohit scored his 249 runs in eight ODIs at a strike rate of 114.22, which is his highest in any calendar year. In 2023 so far, off his four innings, Rohit has a strike-rate of 100.57, which is 11 more than his career strike-rate of 89.6 Of course, the sample size is too small, but there is a pattern to be noticed. A clear shift in gears has also put less pressure on his partner Gill, who is just settling into the team. In the last two ODIs, against Sri Lanka and New Zealand, Rohit could have easily worked his singles in the second powerplay like he used to do earlier and accelerate in the end. But, with second powerplay becoming all the more crucial with just 4 fielders outside the ring, Rohit wants to keep the intent going. And in both the matches, where he looked set, he was dismissed going for a big shot, caught near the boundary ropes.
New Plan A
In their conquest to become the first team to hold the ODI and the T20 World Cup titles at the same time, England have blurred the lines between the two formats more than ever. A major role in them being able to do so has been the role of their openers. Jason Roy, Jonny Bairstow, Jos Buttler and Alex Hales, have all taken the attack to the opposition. Until recently, India's plan was totally the opposite. Heavily reliant on their top three, their Plan A in ODIs was to keep wickets intact till 40 overs by playing risk-free cricket and going hammer and tongs in the last 10 overs. While it did bring considerable success, there were games, especially on flat batting conditions where they always seemed to have left at least 50-60 runs in the middle.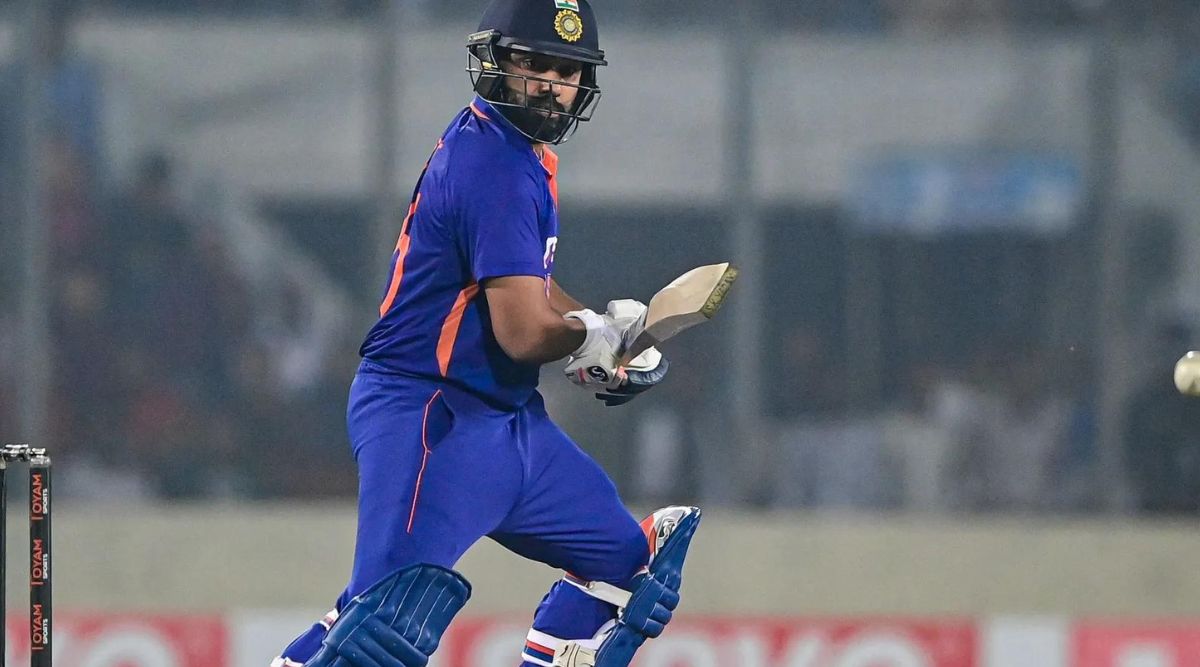 Rohit Sharma batting.(ICC)
But with a strong middle-order in place, India are showing definite signs of changing their approach. In the last game, where he scored 208, Gill said how he was "itching to go for big hits in the middle-overs" but losing wickets at regular intervals held him back from doing so. Even then, he showed enough intent to keep looking for a boundary or two every over.
The larger picture
Although many expected the last World Cup in England to a high-scoring one, it was anything but that. But the upcoming one in India has all the signs for being a run feast. With this being a winter World Cup, there are already concerns of how much of impact dew will have on teams bowling second. And defending totals have not been India's strongest suit, more so because their old approach had time and again seen them end up with below par total.
India are using these bilateral series to see how far they can go as a batting unit by opting to bat first. Their new found approach will not only allow them to play fearless cricket, but it also takes them out of their comfort zone. For a team that is not used to setting targets, they have put 340-plus totals in three of the last four ODIs. With these extra runs they get with their new approach, India believe they would be better equipped to take toss out of equation and give bowlers enough score to defend.