In 2019, during her maiden U-19 match in Uttar Pradesh' colours against Assam, the then 13-year-old Parshavi Chopra was hit above her lips while fielding. With the UP coach asking her to sit out if she wanted, and the youngster taking some time off the field, Chopra returned to pick three wickets in the match and would later tell her parents about the incident. On Friday, the 16-year-old leg-spinner from Greater Noida picked up three wickets against New Zealand in the ICC Women's U-19 T20 World Cup semi-final and was the player of the match in India's eight-wicket win at Potchefstroom.
Her family including her parents, uncle and grandfather followed the match on TV at their Greater Noida home and recalled the lip injury to Chopra.
"Like any youngster, Parshavi was excited about playing in her debut U-19 match for UP. When she got hit on the lips, the coach had told her to sit out before she rejoined the match. Later, when she had a talk with us, she first told us about her three wickets and talked about the lip injury at the end. To get the team to win makes her forget all the things and I am sure she will be only thinking about Sunday's final and not today's performance," Gaurav Chopra, her father, told The Indian Express post the match.
A young Parshavi (right) with younger brother Raghav Chopra.
With her grandfather Parshuram Chopra being a Zonal-level cricketer and father and uncles playing club cricket, a young Parshavi initially opted for skating at her school. It would mean that the youngster would practice in the early hours on empty roads with fellow trainees. Chopra won the silver medal in U-14 UP Skating Championships before her father decided to get her enrolled for cricket. The senior Chopra, who runs a real estate business, took Parshavi to the Yuvraj Singh Centre of Excellence to train under coaches JP Nautiyal and Gaurav Bhatia in 2016.
"Even though her main interest was in skating, she would always listen to all of us talking about cricket and accompanied us to our club matches. Some time later, I decided to get her enrolled at the cricket academy. I knew that there were not many girls playing junior cricket at that time and my wife Sheetal Chopra too encouraged her to play among boys and for boys teams. Once, she took six wickets in an inter-School boys cricket tournament and was adjudged the best bowler of the tournament. She is the only girl child of our whole family and we have always told her that she is not less than anybody," says Chopra Sr.
While Parshavi started as a medium-pacer, coaches Vishal Bhatia and Nautiyal would turn their focus on her leg-spin with Nautiyal concentrating on improving the action of the youngster. With the Yuvraj Singh Centre of Excellence at Youngstar Public School shifting to a new location, Chopra would train at both the academies for sometime. Soon the youngster played in the BCCI U-16 One Day Tournament bagging 17 wickets in the 2018-19 season before playing in the U-19 One Day trophy the next season and bagging 21 wickets and being the second highest wicket-taker.
"Initially, she trained as a medium-pacer. When we started her training as a leg-spinner, she imitated an U-16 boy, who bowled like a medium pacer's action for a leg-spinner. I had to spend some time rectifying her action and taught her to spin the ball in the air. We would make her rotate the wrist in a slow action and later teach how to use fingers to spin the ball. Once she learnt the basics of leg spin, her fingers had more strength and she could try the googly and flipper. We would make her bowl 300-400 times a day on a turf patch on a cement block as the ball grips more to make her think mentally as a spinner. When Covid-19 happened, her father made her shift to their ancestral home in Sikandrabad near Bulandshahr where they built a turf with floodlights," remembers Nautiyal.
Last year, the youngster was chosen for NCA and she claimed 16 wickets in nine matches in the NCA Zonal tournament before being picked for the Indian U-19 team for the series involving India A, India B, Sri Lanka and West Indies. She claimed five wickets in the series before claiming four wickets against New Zealand and four wickets against South Africa before the world cup.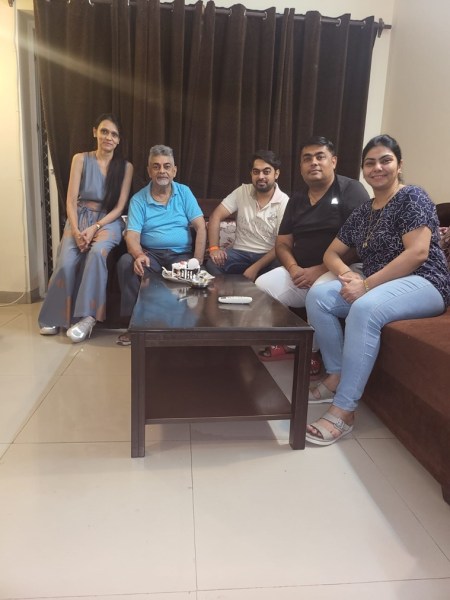 Parshavi's parents Gaurav Chopra and Sheetal Chopra (right) with other family members after India's win.
In the U-19 T20 World Cup, Chopra claimed four wickets in her second match against Sri Lanka in the super-six stage before picking up three wickets on Friday accounting for the fall of the dangerous looking Isabella Gaze, Izzy Sharp and Emma Irwin.
Bowling short on bouncy wickets in SA
"I have always told her that her leg-spin is her main bank account. In South Africa, the wickets are a bit bouncier. In her first match against South Africa, she was not attacking much. We had a talk and I told her to bowl a bit short so the batter plays her in the air and gets caught. Googly pehli aur panchvi ball pe maarna, I told her repeatedly. (Bowl the googly on first and fifth deliveries of the over). Initially, her googly would come on leg-stump and turn outside. But now it comes fast on the off stump and it has helped. The way she outclassed Vishmi Gunaratne of Sri Lanka with her first ball of her over was a display of her skill. She only needs to correct her pivot position a bit to improve further," says Nautiyal.
Last year, the Shane Warne fan, did not change her whatsapp status for days in memory of the legendary leg-spinner after the Australian died. "During Covid-19 lockdowns and practice, Parshavi watched Shane Warne videos on Youtube watching his action. When she read about his death, she did not change her status for weeks. She wanted to meet him one day and maybe one day, she can bowl a match winning spell at the SCG," says Chopra Sr.
Brief scores : New Zealand Women U-19 : 107 for 9 in 20 overs (Georgia Plimmer 35, Isabella Gaze 26; Parshavi Chopra 3/20, Shafali Verma 1/7) lost by eight wickets to India Women U-19 110/2 in 14.2 overs (Shweta Sehrawat 61 no, Soumya Tiwari 22; Anna Browning 2/18).