The 'New Rohit Sharma' is the Indian captain's oldest moniker. It was the same 10 years back, when he made a grand comeback to India's ODI team after getting dropped for the 2011 World Cup. That tag got pasted to him again when he refined his stroke-play – checking those flashy cover-drives and mastering the less-risky pull. Ditto when he showcased his leadership skills by winning five Indian Premier League titles for Mumbai Indians and proved his Test credentials in that dream 900-plus-runs 2021 season.
Like those annually upgraded Apple-products, Rohit has kept getting smarter and wiser. He has added new features to his batting, sharpened his skills – megapixels and gigabytes continue to get added to this ever-evolving cricketer. Rohit Sharma 2.0 was a decade-old update, this is Rohit Sharma Pro Max, probably his best version.
Very early in the contest against the best Test team in the world, Rohit seems to have taken a giant leap. There are early signs that this could be the coming-of-age series for a player who has a mass following but is yet to reach cult status. At Nagpur, amidst the crowd of active modern-day batting greats on the 22 yards, he has easily looked the batsman best equipped to deal with the tricky track. Though there are no one-on-one face-offs between batsmen in cricket, it gives enough space and opportunity for good old one-upmanship. On this dirt track, Rohit has been a runaway leader and threatens to win the race of batsmanship.
Smiles, claps & appreciation all around! 😊 👏

This has been a fine knock! 👍 👍

Take a bow, captain @ImRo45 🙌🙌

Follow the match ▶️ https://t.co/SwTGoyHfZx #TeamIndia | #INDvAUS | @mastercardindia pic.twitter.com/gW0NfRQvLY

— BCCI (@BCCI) February 10, 2023
Even as a captain, he has excelled. He has had a measure of the opposition and also the backing of the team's rank and file. Unlike in the past, his working relationship with Rahul Dravid has been a non-story. The media hasn't yet called it a clique, nor are they suggesting that the two are at loggerheads. Screaming headlines of factions or friction now look like a thing of the past.
The house is in order, the captain is among runs, now if results follow, Rohit, in the year of the World Test Championship final and the 50-over World Cup, could leave behind a lasting legacy. Rohit, the captain, has a chance to fulfill the promise that Rohit, the batsman, couldn't deliver.
With time, under India's indulgent gaze, Rohit has grown in years, and in stature. From being the 20-year-old baby of MS Dhoni's 2007 World T20 winning team to the 35-year-old father of a 4-year-old and an all-format India skipper, the boy from Borivali has constantly changed his get-up while remaining under the spotlight.
Here's how during his 15-year-long storied career, the public perception about him constantly changed. In case one wants to call Virat Kohli a Rajinikanth, then Rohit is Kamal 'Dasavatharam' Hassan. The gifted teen with a high-elbow back-foot punch to die-for; Sachin Tendulkar's heir apparent at No.4; 'will he flirt away his talent like Kambli' phase; 'he is not another Kambli' phase; comeback king; confused lower-order batsman; born-again opener; record smasher; No-hit-to- Hitman transformation; tragic World Cup hero; ICC event also-ran; captain in-waiting, and now Captain.
It's these unending makeovers that complicate the slotting of this batting thespian. There are days when his match-day numbers on the scoreboard have hinted at a brutal assault on bowlers, but those at the stadium have left with memories of silken grace. Has there ever been a Rohit-like batsman?
India's Ravindra Jadeja, right, celebrates the wicket of Australia's Todd Murphy with India's cricket captain Rohit Sharma during the first day of the first cricket test match between India and Australia in Nagpur, India, Thursday, Feb. 9, 2023. (AP Photo)
Back in 2006, when Rohit was playing in the U-19 World Cup, the team's video analyst, to encourage the boys, had made a short film. He juxtaposed the clips of the team's key players with the game's all-time greats. Cheteshwar Pujara was obviously paired with Rahul Dravid, Piyush Chawla was tagged with Shane Warne and Rohit was celebrated as a Mark Waugh-lookalike.
During his Deccan Chargers days, many saw a VVS Laxman in him. When he started hitting those big hundreds as an opener, he was Virender Sehwag. Between Laxman and Sehwag is a batting breadth that can probably fit every batsman who has ever played the game. This says that Rohit is the mesmerising optical illusion that can make one see their favourites in him. Doesn't his paddle sweep have shades of Tendulkar? Isn't there a bit of Sourav Ganguly in him when he dances down the track? The mind can't decide, but is there something in his leg-side play that reminds one of Dravid? That's why its rare to find anyone who's alergic to Rohit's batting.
The purists talk of his art of playing late, the skill to spot the length early and the timing that makes a deadly punch appear like a mere push to the untrained eye. Even for those who go to a cricket game for the exact same reason they visit a multiplex, Rohit is a big draw. He is the reason they can dance silly to celebrate sixes, cheer till they lose their voice and return home delighted even if the home team has lost. For both – the invested and uninitiated – Rohit ensures entertainment.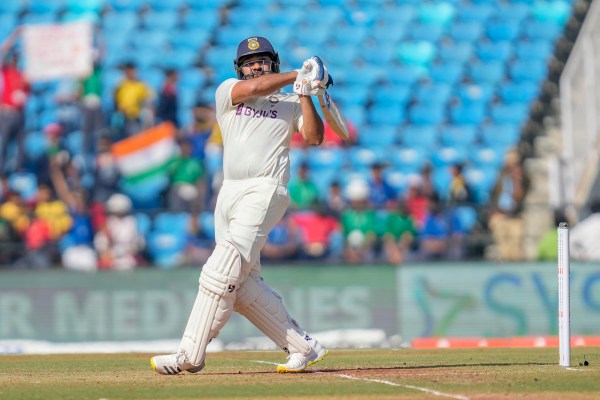 India's captain Rohit Sharma plays a shot during the second day of the first cricket test match between India and Australia in Nagpur, India, Friday, Feb. 10, 2023. (AP Photo/Rafiq Maqbool)
Until very recently, Rohit's beautiful game was cursed. You remember his strokes, sixes, punches, pulls but very rarely the context of the innings. Who did he score his highest ever ODI score of 264 against, and did it decide the series result? Only the die-hard geeks would have the answer. It's Sri Lanka, in a dead rubber, by the way.
Now, things are changing. His 120 on the wicked wicket at Nagpur is one for the ages. It will remain part of India's folklore, the feel-good Aussie-bashing bedtime story for cricket-crazy kids.
There are a couple of cliches that often get used when describing Rohit's strokeplay – 'lazy elegance' and 'he has a lot of time to play his shots'. Rohit hates both of them. A few years back, in his riveting Sky Sports interview to player-cum-pundit Dinesh Karthik, he expressed mock exasperation at this popular take on his batting.
Hidden in his answer is also the untold story of pain and struggle that often get overlooked when one appreciates, or undermines, those with a languid batting approach. Rohit laughed at carrying the burden of the word 'lazy' for far too long. "Since I started playing for India, they said I had lazy elegance. I don't understand that term. You cannot achieve anything by being lazy. You have to be at it, be ahead of the game. When I play the pull shot to someone bowling at 145kph, if I am lazy I will get hit on the head, people need to understand," he said.
He even rebuffed the 'extra time' theory. Taking pains to explain the simple physics of a ball's speed, again with an amusing half-smile on his face, he says, "A 150 kph ball travels the same for everyone. I have no time. There are guys who can rattle you. Technically, you can say some play late, others press forward," he explains.
In that delightfully candid conversation, DK reveals Rohit's big transformation post his marriage to his one-time manager Ritika. The teammates are in splits, on the question of the star cricketer's changing taste with age.
"You were someone who cried watching Sooryavansham (Bollywood's hit family drama), now you are watching Game of Thrones, Breaking Bad and How I Met Your Mother," DK asks. Not far from the camera, the wife looks on. Rohit is surprised by his interviewer's research. "I am from Borivali (Mumbai suburb) but after marriage, I have become a Townie … Colaba," he replies with a cheerful clap. "You need to upgrade yourself."
After Nagpur, you couldn't agree with him more. Whatever be his avatar, Rohit has made India's fanatical cricket cult believe in the doctrine of saviour incarnation.