After she lost her husband to cancer and a son to a snake-bite, she was called a 'daayan' (a witch). Then Savitri Devi was blamed by relations for sending daughter Archana on galat rasta (wrong path). On Sunday, Archana provided the crucial breakthrough in the U19 World Cup final for India, taking the wickets of England's Grace Scrivens and Niamh Holland.
When Savitri enrolled her cricket-crazy daughter at the 'Kasturba Gandhi Awasiya Balika Vidyalaya', an all-girls boarding school in Ganj Moradabad, 15-20 kms away from their village, Ratai Purwa, Unnao in Uttar Pradesh, there were whispers in the neighbourhood that Archana has been sold by her to some dubious dealer.
"Ladki ko bech diya, ladki ko galat dhande mey daal diya hai, ye saari baatein mere muh pe bolte they (I have sold my daughter, I have put her in a wrong line. People used to tell me these things to my face)," Savitri tells The Indian Express over the phone.
On the day her daughter plays England U19 in the World Cup finals, Savitri has gotten on with playing the courteous host to some of these same people. "Now my house is packed with guests and I don't have enough blankets for them. The neighbours, who never drank a glass of water from my house, are now helping me," she says.
Archana's father Shivram died in 2008 due to cancer, leaving a lot of loans and three young children for Savitri to take care of. In 2017, her younger son Budhiman Singh died due to a snakebite. Neighbours and relatives didn't spare her then either.
"Meri maa ko daayan bulate they gaon waale, kehte they pehle apni husband ko kha gayi, fir apne bete ko, inko dekh le toh raasta badal lete they, humari ghar ko daayan ka ghar kahaa jaata tha (They used to call my mother a witch, they would say she first killed her husband, then her son. If anyone sees her on the road, they will change their route. Our home was called witches' house)," says elder brother, Rohit Kumar.
Rohit lost his job at a clothing factory in Kapashera Border in New Delhi during the first lockdown in March 2022; he explains the atrocities their mother had to go through to make ends meet for her children.
Archana Devi (left) with her brother Rohit and mother Savitri Devi (centre) outside their house in Ratai Purwa, a village in Uttar Pradesh's Unnao district. (Express Photo)
"We face floods every year. Half the time, our farm is flooded with waters of the river Ganga. We depended on the milk of our cow and buffalo (one each). We survived all these years because of our mother. She even forced me to complete my graduation and now wants me to prepare for government jobs," he adds.
Brother's death from snake-bite
Unfazed by all these obstacles in her life, Savitri kept going. Her only drive was her dying son's last words to "let Archana fulfil her dream."
"Archana used to play cricket with Budhiman, who was just a year older than her. She hit a shot, and the ball went into an under constructed room, which we never built after her father died. Every time he would use the bat to get the ball out of the debris, this time he used his hands and was bitten by a Cobra. He died in my arms on our way to the hospital. His last words were 'Archana ko cricket khilao' (Let Archana play cricket). After Budhiman's death, when she went back to her school, she started taking cricket seriously and my mother never stopped her," says Rohit.
Changed mood in village
On the day of the women's U-19 World Cup final, Savitri Devi's home is flooded with guests, relatives and neighbours. All of them are unanimously saying one thing "Tum logo ki toh ab kismat badal gayi (The fortune of your family is going to change now)." But, unperturbed by the two-faced murmurs, she is busy preparing food for around 20-25 people in the kitchen.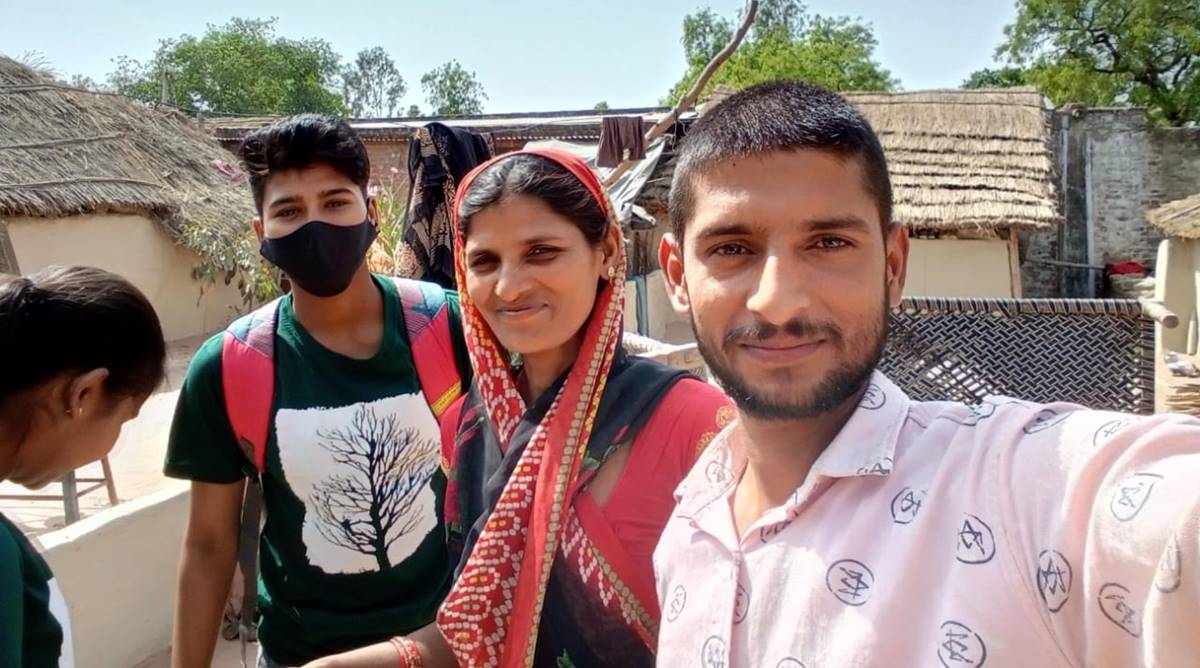 Archana Devi with her brother Rohit and mother Savitri Devi before leaving for India U-19 camp. (Express Photo)
21-year-old Rohit takes the smartphone from their mother's hand and says: "Bhaiya meri maa bahut mahaan hai, jinhone ek chawanni nahi help kiya kabhi wo aaj mehmaan bane hue hai and ye sabko chai pila rahi hai (My mother is a great person, she is serving teas to those people, who had never helped us with a single penny.)"
In the background, one can hear the laughter of Savitri Devi: "Kuch bhi bolta hai. Baat puri ho jaaye fir phone charge kar lena, match bhi dekhna hai (He talks nonsense. When you are done with the interview, charge the mobile, we have a match to watch in the evening.)"
Formal coaching
Punam Gupta, a coach at Archana's school was very impressed by her talent. In the summer break, when she went to her home in Kanpur, she contacted Kapil Pandey, coach of Indian cricketer Kuldeep Yadav. After watching the videos of Archana, Kapil Pandey asked to bring her to Kanpur, and said he would take care of her cricket from his own pocket.
"I saw a passion in her and I had this gut feeling that this girl is a talent and if given a good platform, can play for the country. I got her registered in the Kanpur Cricket Association and did my bit to help her, rest it was all her hard work," says Pandey.
Rohit credits Kuldeep Yadav for motivating Archana. "Archana tumhe bhi India ke liye cricket khelna hai (Archana, you will also have to play for India) he would tell her. And Archana used to nod 'haan bhaiya,'" shares Rohit.
"One day, Kuldeep took a few kids of the academy for lunch. On their way, Archana asked 'bhaiya ye kaunsi gaadi hai? (Which car is this). Kuldeep bhai politely replied, 'Jab badi star ban jaoge toh isse bhi achhi gaadi lena aur hum sab ko ghumana (When you will become a big star, you will get a better
car than mine, then do give us a ride). Pat came the reply 'ji bhaiya,'"concludes Rohit.