When Australia picked Pat Cummins to replace the injured Mitchell Starc for the last two Tests of their four-match series in India in 2017, there was no wholesome approval from the Australian cricket fraternity. In fact, the fast bowler himself had said the India tour would have been too soon for him to return to Test cricket.
Cricket Australia, in a way, was going against its own plans for managing the talented but injury-prone fast bowler's career. After the seven-wicket, player-of-the-match performance as an 18-year-old on his debut against South Africa in Johannesburg in 2011, Cummins was yet to add to his Test caps. Repeated stress fractures had taken a toll on him but the Australian cricket establishment was willing to give Cummins, more precisely his bones, the time to mature.
Though Cummins, then 23, had already played 10 ODIs and three T20s for Australia in the 2016-17 season and bowled New South Wales to victory with an eight-wicket match haul in his first Sheffield Shield match in six years, many believed Cricket Australia should not have sent him to India. They said he should have been preserved for the Ashes series at home later in the summer.
Pat Cummins back bowling with the red ball in Aussie (training) colours #INDvAUS pic.twitter.com/eHafDv9VAx

— cricket.com.au (@cricketcomau) March 14, 2017
"The plan was not for him (Cummins) to be playing in this Test series — it was for him to be playing Sheffield Shield cricket and reassess him (at the end of the season). From that point of view, it's Cricket Australia going against its own plans — we're just hoping it turns out well," former Australian fast bowler and then New South Wales Bowling coach Geoff Lawson had told Fox Sports.
Then New South Wales captain Moises Henriques had also echoed Lawson's view. "I think Pat is a very special bowler, so in terms of skill-wise and if you want someone to play cricket for Australia, I think Pat Cummins is your man. But whether he's ready physically on the back of one Shield game, that's a completely different kettle of fish," he had said.
Some observers said Cummins would have got more overs under his belt had he stayed in Australia and bowled in Shield cricket rather than playing sidekick on spin-friendly Indian pitches.
Many thought either James Pattinson, who at the time had an impressive Test record of 70 wickets from 26 matches; or Chadd Sayers, who was leading the Shield season's wicket-takers list with 50 wickets, was the better choice to replace Starc in India than Cummins.
Australian fast bowler James Pattinson. (FILE)
Even after Cummins was picked in the squad, there were calls to include Jackson Bird, who had been with the touring party from the beginning, in the playing eleven for the third Test in Ranchi. Former fast bowler Rodney Hogg had said it would have been difficult for Cummins to acclimate to Indian conditions quickly.
Ahead of the third Test, Cummins had said, "I always had an eye on the Ashes next (summer), thinking that I had to play three or four (Sheffield) Shield games to put my hand up for selection… So it's certainly come a lot quicker, but I always thought I'd get back here."
He had also indicated he was expecting to bowl only a few overs thinking spinners would rule the roost. "Over here, it's not great bowler-friendly wickets for quicks, which means more likely I won't bowl too many overs."
But as it turned out, the Ranchi surface was a far cry from a typical Indian dustbowl. Australia scored 451 in the first innings on a slow and low track. In reply, India piled on 603/9 as the game meandered to a draw. But Cummins had made his mark bowling 39 overs and taking four wickets — that of K L Rahul, Virat Kohli, Ajinkya Rahane, and Ravichandran Ashwin. Incidentally, this was the second time Cummins dismissed Kohli; the first in a World T20 match in 2012.
Cummins's figures read 39-10-106-4. More than the wickets, it was his heart bowling that many overs on the lifeless track — the most he has bowled in a Test innings ever — that stood out.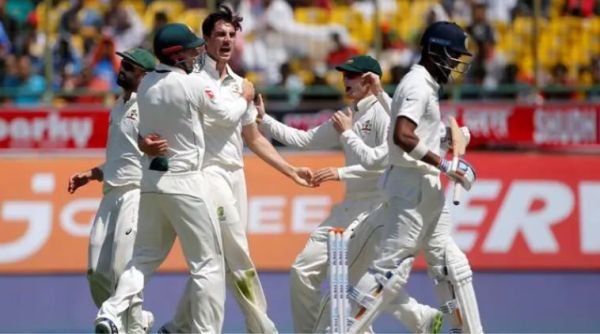 Pat Cummins celebrating the wicket of KL Rahul in Ranchi in 2017. (FILE)
In India for the upcoming Test series as captain of the Australian team, Cummins, the other day, fondly remembered the Ranchi experience.
"I think what I learned about myself was, it was my first Test match in six years, it kind of reaffirmed that that is where I wanted to be," he said.
He also said that the Ranchi Test allowed him to bowl without worrying about getting injured. "In Test cricket, you can't be worried about your body or different things, you have just got to go all-in. I really enjoyed that," he said, adding that over the five days in Ranchi, he learned that Test cricket could be "really, really hard".
"You've got to accept that it's going to be a grind sometimes, and you have got to be up for it and embrace that challenge… You need to get into the grind at times, and that role as a fast bowler might be bowling plenty of overs for not a heap of reward but doing a job for the team. I really enjoyed that aspect of that last tour," he said.
The Ranchi Test was a revealing experience for Cricket Australia too. It knew the time was right to peel off the cotton wool around the prodigal fast bowler in whom it had invested a lot over the years. It set him on the path to becoming the number-one ranked Test bowler in the world and the Australian captain.
Between Cummins's first and second Tests, Australia played 64 Tests. However, he has featured in 46 of Australia's subsequent 50 Tests, a testament to his ability to bowl long spells without getting injured. Now, on his return to India for another gruelling duel, Cummins remains the key for the visitors to set the tone with the ball as they try to win a Test series in India for the first time after 2004.