Of the many things PR Sreejesh would've expected before he joined the national team set-up nearly 20 years ago, a test for colour blindness must not have been one of them.
And yet, one of India's best hockey goalkeepers of all time was made to sit on an ophthalmic chair, recognising designs and shapes, and get examined for – among many things – colour blindness.
"Many players realised they had a number when they came to the national camp," former India goalkeeper Adrian D'Souza says. "So, we would all have our eye tests done. They did an in-depth test for goalkeepers because we had to see much more clearly than an average hockey player. I did it, Sreejesh did it… we used to get marked on the basis of that."
D'Souza doesn't remember their scores. But given how sharply Sreejesh's eyes pick the fast-moving ball even today, at the age of 34, it must have been with flying colours.
He might not have to sit through the tedious eye tests these days, but every time he steps on the pitch – be it for training or a match – Sreejesh can be seen juggling two balls, standing in a triangle with other goalkeepers and throwing a ball with one hand while simultaneously catching with the other, or simply standing in front of a wall with another person standing behind his shoulders, bouncing tennis balls off it with Sreejesh using his reflexes to catch them.
PR Sreejesh trains with glow lights to improve his hand-eye coordination. (Photo credits: Mihir Vasavda)
Not just Sreejesh. Almost every goalkeeper goes through these drills to warm up their most important muscle before taking position between the posts. "As a goalie," India's goalkeeping coach Dennis van de Pol says, "your eyes are your most powerful weapon. If you really read where the ball is coming (from), then it's so much easier."
Hockey is a peculiar sport, in that the goalkeeper does not have the advantage of a sight screen that makes it easy to spot the ball for a batsman or a wicketkeeper in cricket. Neither is the size of the ball that big, unlike a football, that can make his job easier. Through his helmet, a goalkeeper has to read the trajectory of the ball and get in the right position to stop it from going in.
Colours, glare
It might sound a pretty straightforward thing but as former Malaysia goalkeeper Kumar Subramaniam, who is now a part of the team's coaching staff, says, it's laden with challenges. "Especially during the night games, there are issues because of the glare," he says.
Once, at the Azlan Shah Cup in Ipoh, the lights felt so bright that Subramaniam couldn't even spot the ball. And so, he started focusing on everything that happened at his eye level. "If you look at an aerial ball, for example, and glance at the lights, chances are you might be blinded. Even if that lasts for a second, it can get risky. So, I avoided looking up and for aerial balls, I used to take a look at the flight of the ball, read its trajectory and shift my focus on that part of the field," Subramaniam says.
Now a goalkeeping coach, one of his first pieces of advice to young custodians is to get their eyes tested for glare and colour blindness to spot the white or yellow colour ball as well as differentiate between the opponent's shirt colours as well as his own team's.
D'Souza says the goalkeepers get tested for both, their long as well as short vision. "Long distance would go beyond 100 yards, just to see how far you can see. At such a distance, you of course can't see the ball but what you are watching is the movement," he says.
Dealing with deflections
The short-distance vision assumes even more significance now, given how actively the forwards are looking for deflections inside the circle. "Most goals these days are scored by deflection," D'Souza says. "It means your eyes have seen something to which your body is reacting. But suddenly, there's a change."
And so, for months, Van de Pol has been preparing the Indian goalkeepers to deal with such deflections, which often come from inside the 6 metre area near the goalpost. The Dutchman cites the example of his compatriot Jaap Stockmann, a Netherlands goalkeeping great, who 'was like a statue' in the goal.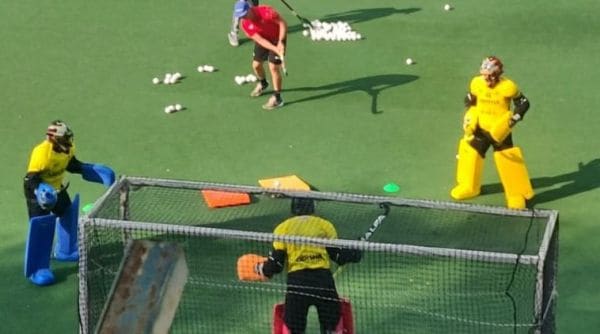 Before the World Cup, during national camp at SAI Centre in Bangalore, India's goalkeeping coach Dennis van de Pol trained Indian custodians to deal with close-range deflections using boards.(Photo credits: Mihir Vasavda)
"Because the ball travels so fast, a lot of goalies move into a position even before the shot, anticipating the direction in which it'll be hit. What ends up happening is they have to make two moves then to get into the right position," Van de Pol says.
What set Stockmann apart from the rest is he would wait until the ball would release from the stick before making his move. Among the contemporary goalkeepers, Belgium's Vincent Vanasch comes closest to the statue-like Stockmann.
Van de Pol's primary aim has been to make the Indian goalies patient. During training camps, he held special sessions after regular training when Van de Pol kept deflection boards on the left, right and in front of a goalkeeper. He'd then hit the ball from the top of the 'D'. The challenge for the goalkeepers was to resist the temptation to move immediately after the first shot, and wait until the ball would deflect off the board, which was some 3 or 4m away from them.
"It's a fun thing to work with. What separates a top goalie, the best-ever who lived from a good goalie is that they make it look so easy – an incredible shot from the top of the 'D', and they save it just like that. Boom! Or a deflection from close range, and they are there.
That is so demotivating for the striker," van de Pol says. "And that's just because of one thing – their vision is sharp and their eyes are fixed on the ball."